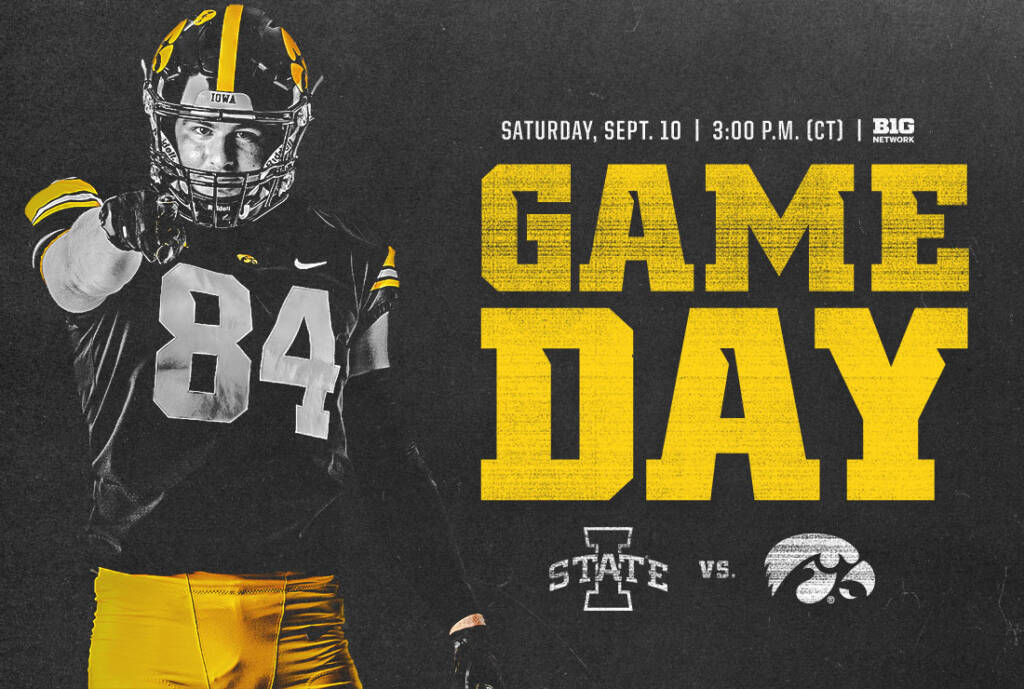 | | |
| --- | --- |
| OPPONENT | Iowa State at Iowa |
| DATE | Saturday, Sept. 10 |
| LOCATION | Duke Slater Field at Kinnick Stadium |
| KICKOFF | 3:05 p.m. (CT) |
| TELEVISION | BTN |
| RADIO | Hawkeye Radio Network |
1st and 10
1 – The Hawkeyes have won six straight games in the Iowa Corn Cy-Hawk Series against Iowa State – the longest streak in the series since winning 15 consecutive games from 1983-97. The Hawkeyes are outscoring the Cyclones, 175-98, during the six games.
2 – Iowa's seven points against South Dakota State came via a field goal and two second-half safeties. The Hawkeyes are the first Big Ten team to win a game without scoring a touchdown since Nebraska in 2018. Iowa's last such win? The 6-4 victory at Penn State in 2004.
3 – Iowa had two safeties in the 7-3 win over the Jackrabbits. It was the first time since 2018 at Penn State that the Hawkeyes had two safeties in the same game. The Hawkeyes have three safeties over their last two regular season games (vs. South Dakota State, at Nebraska, 2021).
4 – Senior TE Sam LaPorta is four receptions shy of 100 for his Iowa career. LaPorta has 97 catches for 1,138 yards, which ranks 37th in program history.
5 – Iowa's defense surrendered just 120 yards in the 7-3 win over South Dakota State. The 120 yards are the fewest in a season-opening game since 2004 (110 vs. Kent State), the fewest allowed by the Hawkeye defense since 2018 (115 vs. Maryland) and the fifth fewest all-time in the Ferentz era.
6 – LB Jack Campbell finished with 12 tackles to record his sixth career game with 10 or more tackles. Campbell also had 1.5 TFL, which included Iowa's first safety that gave Iowa the 5-3 lead. Campbell has 10+ tackles in three of his last four games dating back to last season.
7 – P Tory Taylor had a career-high 10 punts for 479 yards against SD State with seven punts pinning the Jacks inside their own 20. He had six inside the 12 and two punts pinned SD State deep in its own territory and led to both Hawkeye safeties. The Australia native, who is the Big Ten Special Teams Player of the Week, currently ranks eighth in the NCAA with a 47.9 punting average.
8 – Really, punting is winning. The Hawkeyes have six wins since 2020 when punting eight or more times in a game. Eight other FBS teams have two wins when punting eight or more times.
9 – Iowa's defense ranks in the top 12 nationally in six categories. The Hawkeyes are second in first-down defense (6), seventh in total defense (120), ninth in sacks (4) and rushing defense (33), 10th in scoring defense (3.0) and 12th in passing yards allowed (87.0). Iowa leads the Big Ten in fewest first downs allowed (6).
10 – Clean football… the Hawkeyes committed just two penalties for 15 yards in the season-opening win over South Dakota State. Iowa is second in the Big Ten and third nationally in fewest penalties through Week 1.