By JACK BACON
hawkeyesports.com
IOWA CITY, Iowa — In life, as in sport, many great stories begin with one person and a vision. One of the best stories of the University of Iowa football team's offseason started with an idea, not for a new trick play or defensive scheme, but for a promotion.
Courtney Ralph, a volunteer coordinator at Safe Haven of Iowa County Animal Shelter, wanted to up her Hawkeye football player-to-dog ratio.
"We probably had 25 to 30 guys out there sometimes," said junior offensive lineman Logan Jones. "I would say the Hawkeye-to-dog ratio was at least one guy for every dog, at times. It was awesome."
In total, more than 90 members of the Hawkeye football team combined for 975 hours of community service this summer at Safe Haven, which is located 30 miles west of Iowa City in South Amana, Iowa.
"I did have a sales pitch," said Ralph.
Casting a wide net on social media, Ralph messaged players a request to promote the shelter on their personal accounts. In an era of paid "Name, Image and Likeness" promotion, she had nothing to offer except a chance to visit the animals.
"Come visit our shelter," Ralph told the players. "Meet some of our animals, take photos and share experiences with the community. This would spread the word about these animals to a larger audience."
That was all the Hawkeyes needed to hear. Sixth-year defensive end Joe Evans said puppy fever spread quickly through the Iowa locker room.
"Some guys decided to get out there one day, and word of mouth traveled throughout the facility," said Evans. "It ended up being everyone going to Safe Haven and having a great time."
Leaders of Iowa's Hawkeye Championships teams decided to seize the momentum. An annual tradition within the program, Hawkeye Championships teams are small groups which foster team comradery through community service activities during the offseason. All players participate and earn points for their team through service hours.
The connection with Safe Haven presented a unique chance for teams to collaborate. That meant a steady stream of Hawkeye helpers throughout the summer.
"Safe Haven was an opportunity for us to go out and log a lot of hours helping those dogs," said Jones. "You can say it was for Hawkeye Championship points, but you develop relationships with these dogs, and everybody just loves it. It was a great summer for everybody."
Players primarily spent time socializing with the animals, which the shelter says makes animals more adoptable.
"It's hard to put into words how valuable the players' involvement has been," says Ralph. "For starters, the amount of time over the months that the players spent at the shelter would have been impossible for our current team of volunteers to cover.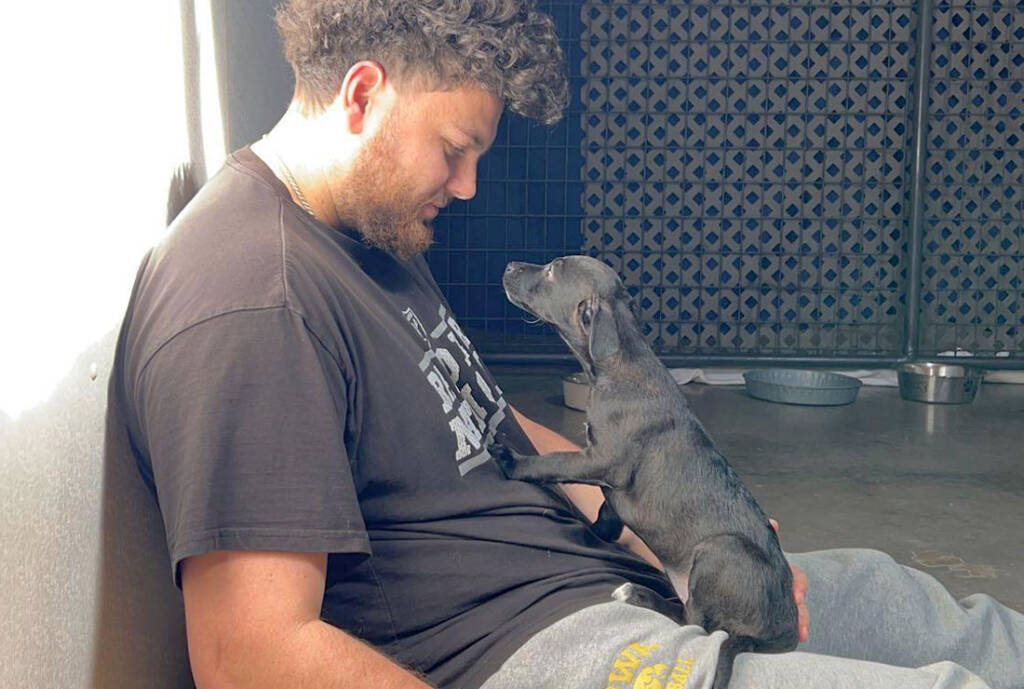 "The hours the guys came allowed the dogs and cats extra enrichment and socialization time, which often helps them become more adoptable. Kennel stress is a real thing for shelter animals, and the best way to combat it is with attention and getting them into homes as quickly as possible."
Junior defensive end Deonte Craig said the players made an effort to reach as many animals as possible, regardless of breed or age.
"The Hawkeye players really showed out," said Craig. "No one animal was getting too much attention. We spread the love around."
I would say the Hawkeye-to-dog ratio was at least one guy for every dog, at times. It was awesome.

Logan Jones - Hawkeye junior offensive lineman
Players across all position groups bought in, from walk-ons to veteran starters. One of the most frequent volunteers at Safe Haven was preseason Doak Walker candidate Kaleb Johnson.
"I was out at Safe Haven 12 times this summer," said Johnson. "I would go for an hour or two each time. We would take the dogs out, feed them, play with them and show love to them.
"I liked this husky named George. He was a very questionable dog, but I love the way he is and the way he carries himself. He was stand-up guardable. He felt like he was that man, so I like that about him. He was confident that he was the best dog there."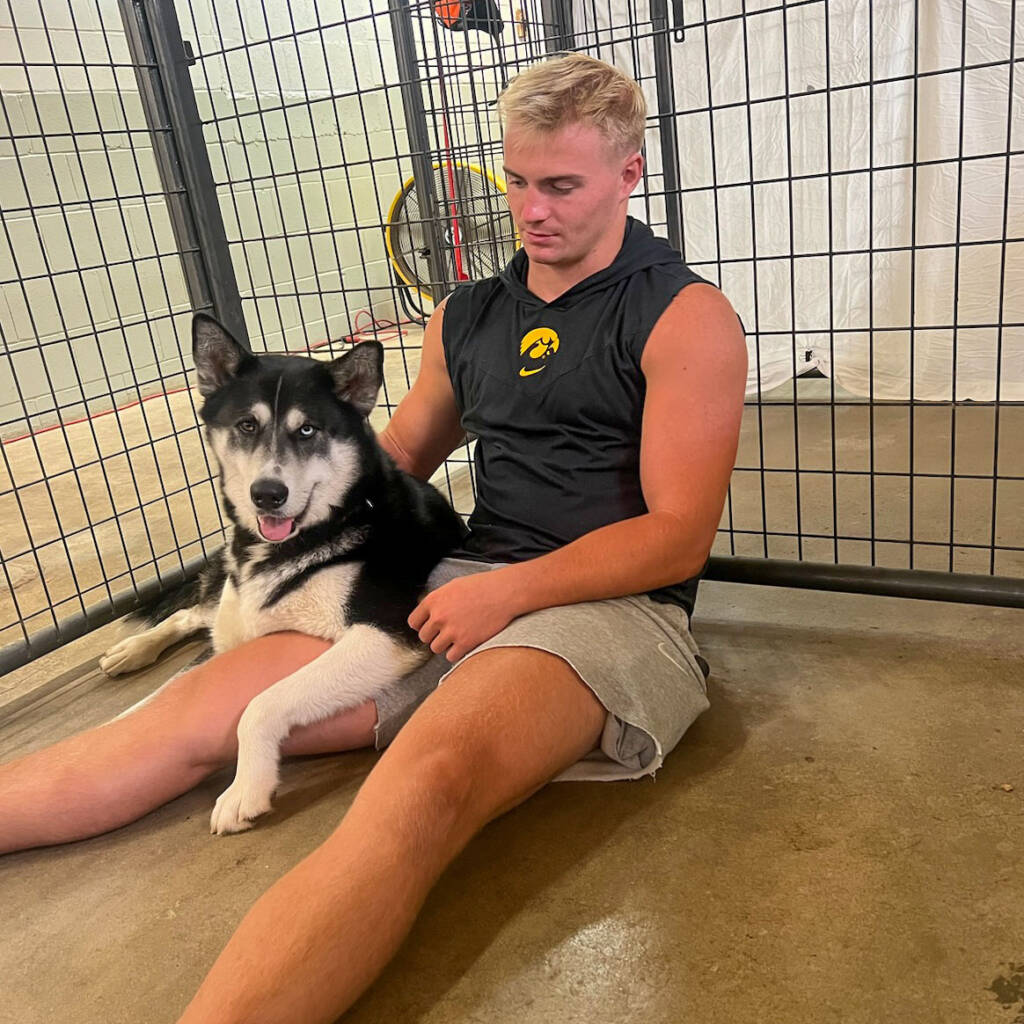 For Ralph, those relationships were a large reason the summer became so special. For instance, Ralph says that time spent with the running back room made all the difference for George, the husky.
"George was exhibiting some signs of kennel stress," said Ralph. "We asked the players not to handle George without an experienced volunteer who had worked with the trainer."
"Max White would patiently sit outside of George's kennel, spending time with him, until George was eventually cleared for all volunteers to handle. The time Max and the others were able to spend with George added to the enrichment time George needs."
"I could tell you a story about almost all of the players," says Ralph.
Junior defensive tackle Yahya Black spoke with shelter volunteers about his educational goals to become a mentor for high school students.
Junior tight end Luke Lachey was introduced to every cat by the young daughter of a shelter volunteer.
Junior cornerback Cooper DeJean led the effort to move a large pile of rock, a task he saw as better suited to the football team than the shelter's volunteer staff.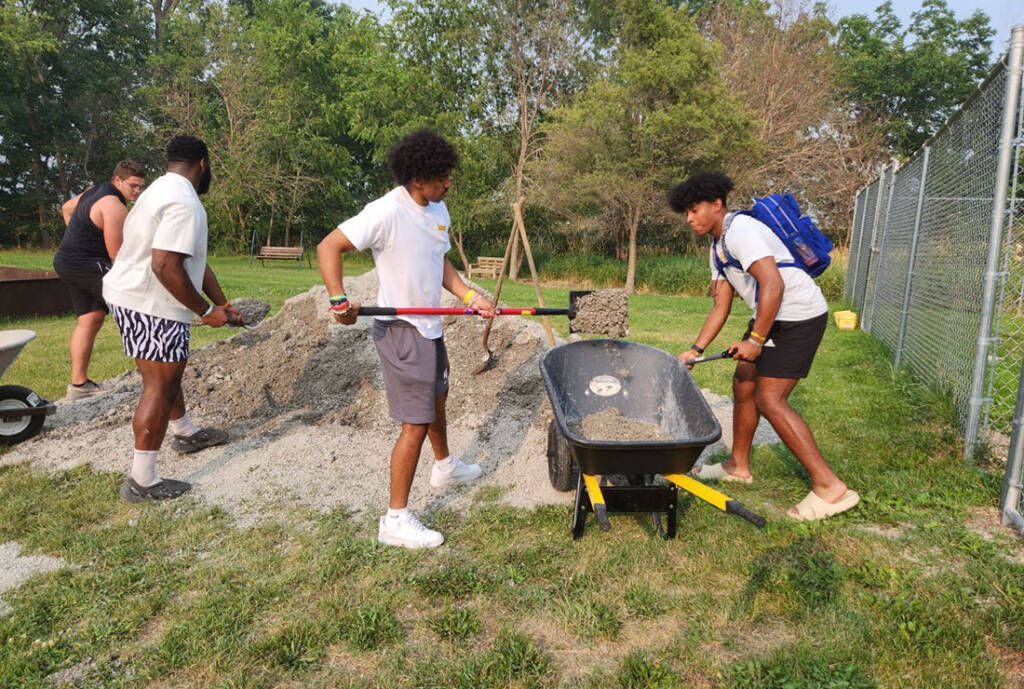 Jones and sophomore kicker Drew Stevens made extra time to play with kittens, whose need was the greatest due to their recent separation from their mother.
"Whenever we went there, I would try to make time to see the cats, because they don't get a lot of attention," says Jones. "They made our days, too."
Joe Evans, Eric Epenesa and Graham Friedrichsen befriended Sugar, a white and tan pit bull who had previously been abandoned.
"If she is still there after this year, and my living situation allows, I am probably going to go back and adopt her," says Evans.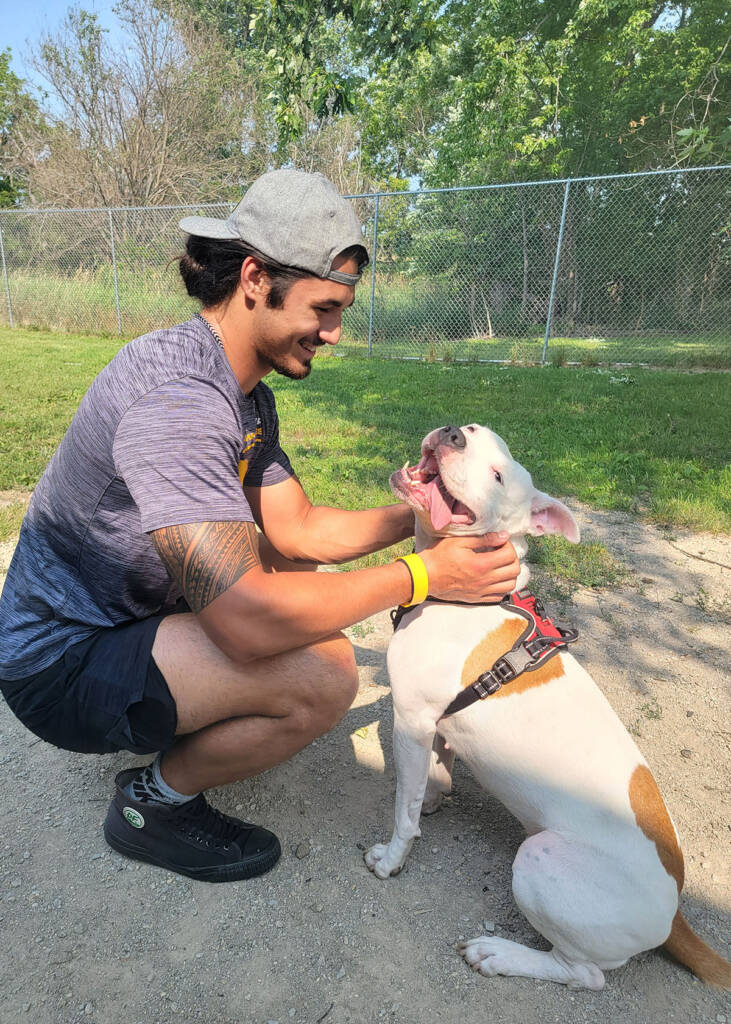 Then there is Wally, the newly arrived hound dog whom players promptly named after linebackers coach Seth Wallace (any resemblance is purely coincidental).
"It is truly heartwarming and the reason I do what I do," says Ralph. "These animals tend to come to us from the worst situations. They have often been abandoned, or lost, or are being separated from the people they know and love because of terrible circumstances.
"We get to take that worst situation and turn it into a best-case scenario with our ability to love and care and be decent human beings. Everyone — each player who joined us included — who takes time to help these animals, makes the future better. The animals make us better, too."
Indeed, the impact went both ways. After months of struggling to find the right fit at other shelters, junior defensive back Jermari Harris came home from Safe Haven with a cat, which he named Anubis after the Egyptian mythological figure.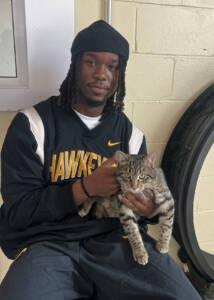 "He is a good friend of mine now," said Harris. "It was love at first sight. He just ran up on me. He started loving on me and what not. He is a real cuddly guy. That is my dog, but he's a cat."
Like George the husky, Anubis does not lack for swagger.
"Anubis is high energy," said Harris. "They told me when I got him that he was in his young teenage years. He is a crybaby, who loves attention. It was just me and him in there. I am all he has, he's all I have."
Fortunately, the duo now has a new roommate in junior defensive back Sebastian Castro.
"He is an animal guy, himself," said Harris. "They get along, even though they try to act like they don't. They do."
Harris says that between the scenic commute and being with great friends, Safe Haven became an aptly named getaway for the Hawkeyes.
"It was fun, and I also love the drive," said Harris. "It is just 30 minutes west of here, so I can get my head away from things and go visit the animals. I met new friends and Courtney Ralph is an amazing person. She reached out to me and got me interested. Once I got into the building, it was fun from there on."
The dog days of summer meant something different to all Hawkeye football players during the summer of 2023. That started with a big idea and a simple ask.
"Courtney cares about everyone," said Harris. "She is a genuine person. Everything she does I feel as though it comes from the heart. That is all I can ask for. I am willing to do whatever for her, so long as she reaches out and asks."
Statement from Kimberly Buresh, President, Safe Haven of Iowa County:
"Safe Haven of Iowa County, a small non-profit animal shelter, launched a new volunteer opportunity with the Iowa Hawkeye football team earlier this year. I have volunteered at the shelter for 17 years and can safely say this has been one of the more exciting partnerships in our organization's history.
Not only have our cats and dogs directly benefited from the nearly 1,000 volunteer hours the team logged, but our own current volunteers truly appreciated the extra help and enjoyed getting to work alongside these fine young men. I could tell the team enjoyed coming somewhere that they could relax and connect with pets as many of the players mentioned missing their pets back home. I honestly think they enjoyed the opportunity to get away from the busy lifestyle of Iowa City, and a chance to not think about the stress and pressure that Division I collegiate athletes often face. Safe Haven has definitely benefitted from this new volunteer opportunity, and we like to think the players gain something valuable as well and look forward to building this relationship in the future."