Gameday Info
Download the Hawkeye Sports App to manage mobile tickets and participate in the light show during pregame introductions.
Clear bag policy (see Allowed Items in Arena Information below )
Alcohol sales at all games
Carver-Hawkeye Arena Information
Parking
Contributor Parking
Contributor parking passes are identified as zones and required for entry to lots identified below:
Zone A: Park in Lot 46 or Lot 75 (east section)
Zone B: Park in Lot 33 or Lot 75
Zone C: Park in Lot 40 (east section)
Public Parking
Starting for the 2022-23 season, public parking will be free of charge in Lots 43 and 65. Public parking is also available at the applicable hourly rate in Ramp 3 and Newton Ramp. Free parking is available in the Hancher Lot on dates where no performances are scheduled. When the Hancher Lot is available, complementary CAMBUS shuttles to Carver-Hawkeye Arena will begin 90 minutes pregame and run until one (1) hour postgame. CAMBUS shuttles will drop-off and pick-up outside Carver-Hawkeye Arena on Elliot Dr. There will be no complimentary shuttle for the exhibition games.
ADA Parking
Free of charge in Lot 40 (west half). A state-issued ADA parking placard or license plate is required. Access Lot 40 from Elliott Dr.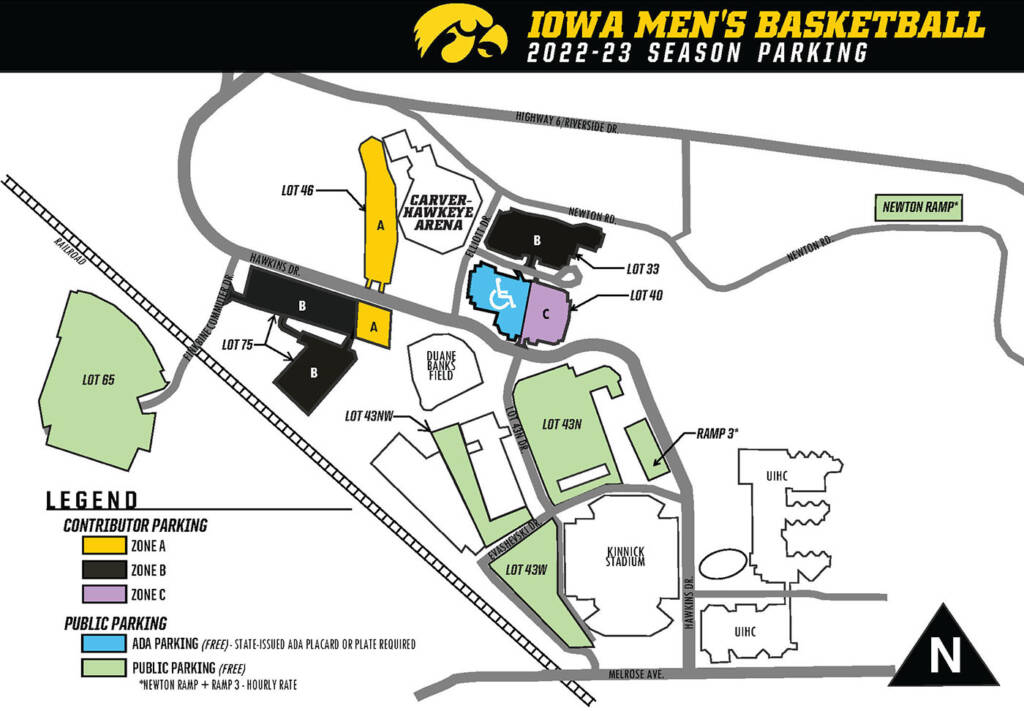 *Please park in designated parking stalls for all events, not including drive lanes, bus shelters and grass/snowbanks.
Game Promotions/Events
2023-24 Promotions will be announced soon.