Nov. 25, 2013
IOWA CITY, Iowa — On the night of Aug. 20, Mike Klemmensen found himself in a position much like a college football quarterback as he approaches the line of scrimmage: He had to assess the situation immediately in front of him and make a decision on the course of action that he believed provided the very best opportunity for success…all while the clock was ticking.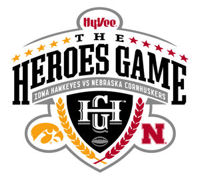 The difference between the decision that confronted Klemmensen and that which rests in front of a quarterback was significant, however: In Klemmensen's situation, the lives of three generations of personal friends were at stake because he had to decide whether he'd enter a neighbor's home that was on fire.
"It was a judgment call and, of course, knowing the occupants as well as I do certainly was a factor in the decision," said Klemmensen, a full-time Sioux City firefighter, a volunteer for the fire department in his home town, and the state of Iowa's "Citizen Hero" who will be honored at halftime of Friday's Hy-Vee Heroes Game between Iowa and Nebraska at Memorial Stadium in Lincoln, Neb.
Without any of the safety and life-support gear routinely available to a fire fighter, Klemmensen entered the burning structure, found four adults and two children sleeping, woke them up and got them safely out of the building. He then woke neighbors in adjacent homes before returning to the scene to assist in fighting the fire over the next seven hours.
"I'm not 100 percent certain I'm a hero. I don't feel I did anything different than anyone who I work with would have done," said Klemmemsen, whose "day job" is with the 185th Division of the Air National Guard in Sioux City.
"I'm certain if any of my peers were confronted with the same situation, they'd do the very same. I'm just glad someone was there to help."
"I'm not 100 percent certain I'm a hero. I don't feel I did anything different than anyone who I work with would have done."

Mike Klemmensen, the state of Iowa's 'Citizen Hero' for the 2013 Hy-Vee Heroes Game Friday at Lincoln, Neb.
The University of Iowa and the University of Nebraska use the national stage created by the Hy-Vee Heroes Game to honor the heroic efforts of individuals and organizations in America's heartland. Each year, fans of both schools are invited to nominate residents of Iowa and Nebraska who have performed extraordinary acts of heroism and service in their communities. From among those nominated, staff and volunteers from the American Red Cross select the following winners, who are recognized during a halftime of that year's football game.
The state of Nebraska's "Citizen Hero" for the 2013 is Caleb Amundson. During the Labor Day weekend, 18-year old Caleb was just getting done with a leisurely afternoon of jet skiing and fishing at Harlan County Lake. Looking around, he noticed another man getting ready to enjoy some time on the lake and then suddenly the brakes on the man's truck seemed to give way, sending the truck, boat, and its passenger into the water. Without about his personal safety, Caleb dove into the murky lake to help. Feeling for the truck mirror to gauge his surroundings, he felt the man's arm and pulled him to safety. Little did Caleb know, the man he rescued was paralyzed.
Klemmensen is the third "Iowa Hero." Lois and Bill Hall of Clinton and the K-9 dogs they raise and train were honored a year ago at the 2012 Hy-Vee Heroes Game in Iowa City for providing more than 1,500 hours of service to their community each year, assisting with emergency search and rescue missions and offering therap visits to local schools and hospitals.
Gary Launderville of Storm Lake was chosen as Iowa's hero for the inaugural Hy-Vee Heroes Game in 2011. He was singled out for his concern for children and for putting community safety ahead of personal safety. Gary and his wife Sandy have fostered more than 125 children and have adopted seven of those foster children.
Athletics Directors Shawn Eichorst of Nebraska and Gary Barta of the UI will make a special presentation to the this year's honorees at halftime of Friday's game. The honorees names will also be inscribed on the Heroes Game trophy.
Representatives from Hy-Vee, presenting sponsor of the Heroes Game, will present a check to the American Red Cross prior to kickoff in honor of this year's Citizen Heroes and in support of the important work of the American Red Cross in Iowa and Nebraska.
About the American Red Cross
The American Red Cross shelters, feeds and provides emotional support to victims of disasters; supplies nearly half of the nation's blood; teaches lifesaving skills; provides international humanitarian aid; and supports military members and their families. The Red Cross is a charitable organization – not a government agency – and depends on volunteers and the generosity of the American public to perform its mission. For more information, please visit redcross.org. Friends can also follow the Red Cross blog at blog.redcross.org.
About Hy-Vee
Hy-Vee, Inc., founded in 1930, is an employee-owned corporation operating 234 retail stores in eight Midwestern states. For fiscal year 2012 Hy-Vee will record sales of $7.7 billion, ranking it among the top 25 supermarket chains and the top 50 private companies in the United States. For more information visit hy-vee.com.