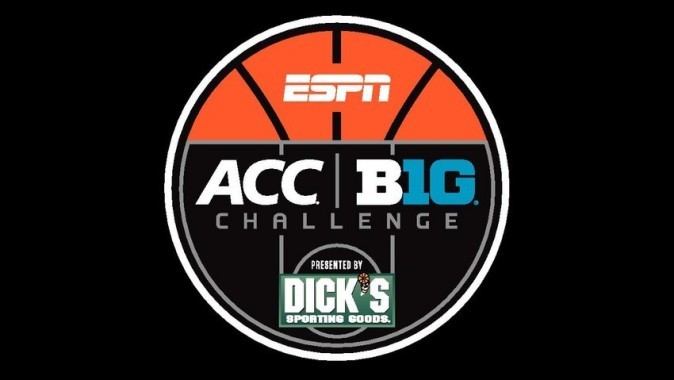 May 1, 2014
IOWA CITY, Iowa — The University of Iowa men's basketball team will travel to North Carolina, Wednesday, Dec. 3, as part of the 2014 ACC/Big Ten Challenge Presented by Dick's Sporting Goods. Both Iowa and North Carolina return three starters from NCAA Tournament teams a year ago.
This will mark the fourth meeting between the Tar Heels and Hawkeyes and first since 2004. North Carolina defeated Iowa, 106-92, in the championship game of the 2004 Maui Invitational; the Tar Heels went on to win the national championship that season. The teams also played a home-and-home series in 1989 and 1990 with the Hawkeyes winning both — 98-97 in Chapel Hill in 1989 and 87-74 in 1990 in Iowa City.
"We are excited about the opportunity to play North Carolina in this year's Challenge," said Iowa head coach Fran McCaffery. "North Carolina is a talented basketball team that is extremely well-coached. This game will enhance our nonconference schedule and be a good road test for us early in the season."
Game times and television information will be announced at a later date. ESPN, ESPN2 and ESPNU will combine to televise all 14 games of the three-day event matching top college basketball programs playing for conference supremacy and the Commissioners Cup. All 14 games will also be available via WatchESPN.
Iowa won last season's Challenge game in thrilling fashion, 98-93, over Notre Dame in Iowa City on Dec. 3.
Iowa went 20-13 a year ago and placed sixth in league action — its second consecutive first-division finish in the Big Ten under head coach Fran McCaffery. The Hawkeyes earned an NCAA Tournament at-large berth — their first since 2006 — falling to Tennessee, 78-65 (OT), in the first round in Dayton, Ohio. The Hawkeyes return 10 letterwinners, including three starters in 2014-15. Iowa returns three of its top four scorers and four of its top five rebounders next season. Iowa will be led by Aaron White, who earned third team all-Big Ten laurels the last two seasons. The senior forward led the squad in rebounding (6.7 rpg) and was second in scoring a year ago (12.8 ppg). Other returning starters include junior guard Mike Gesell, who averaged 7.8 points and a team-best 3.9 assists per game, and junior center Adam Woodbury (5.7 ppg and 3.9 rpg).
North Carolina head coach Roy Williams also welcomes back three starters from a team that posted a 24-10 overall record and tied for third place in the Atlantic Coast Conference. The Tar Heels were edged by Iowa State in the Round of 32, 85-83, in last season's NCAA Tournament in San Antonio, Texas. North Carolina returns leading scorer Marcus Paige (17.5 ppg). Paige garnered second-team All-America honors from The Sporting News and was a first-team All-ACC honoree last season. He is a Marion, Iowa, native and played on the same All-Iowa Attack AAU team as Iowa's Gesell and Woodbury. The Tar Heels also return starting forwards J.P. Tokoto and Kennedy Meeks. Tokoto was an All-ACC Defensive team selection after averaging 9.3 ppg, 5.8 rpg and a team-best 1.6 steals, while Meeks (7.6 ppg and 6.1 rpg), who was named to the ACC All-Freshman team.
The ACC and Big Ten split the last two Challenges with six wins each, but the Big Ten retained possession of the Commissioners Cup. Before the last two ties, the Big Ten won the previous three challenges (2009-11). In addition to the two ties, seven of the 15 challenges have been decided by a single game.
With 15 teams in the ACC and 14 in the Big Ten, Boston College will not be participating in this year's event.
The 2014-15 Challenge schedule is listed below:
Monday, Dec. 1
Nebraska at Florida State
Rutgers at Clemson
Tuesday, Dec. 2
Illinois at Miami
Minnesota at Wake Forest
NC State at Purdue
Ohio State at Louisville
Pittsburgh at Indiana
Syracuse at Michigan
Wednesday, Dec. 3
Duke at Wisconsin
Georgia Tech at Northwestern
Iowa at North Carolina
Michigan State at Notre Dame
Virginia at Maryland
Virginia Tech at Penn State