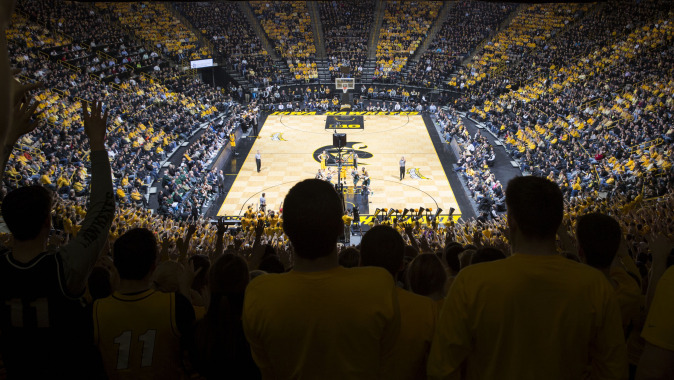 June 13, 2014
IOWA CITY, Iowa — The University of Iowa men's basketball's attendance figures continued to rise last season, which resulted in a national attendance ranking of 17th.
The NCAA released its final 2013-14 attendance figures from the 2013-14 on Friday, which included an average of 14,976 fans in Carver-Hawkeye Arena for 17 regular season home games. In 2013-14, Iowa sold out 11 home games, including 8-of-9 Big Ten contests.
It marks the 20th time in the program's history that the Hawkeyes cracked the top 20 in national attendance.
Along with ranking 17th in average attendance, Iowa ranked ninth-best nationally in improvement over the previous year (1,351 per game) and 19th in total attendance for all games (451,951). The Hawkeyes have won 22 of their last 26 home games, dating back to mid-January, 2013.
"Our fan base is incredible and this ranking is a reflection of the phenomenal support our fans give us every home game," said Iowa head coach Fran McCaffery. "Hawkeye fans make Carver-Hawkeye Arena a special place; our team feeds off their energy and enthusiasm. We are extremely thankful and proud to play in front of such knowledgeable and passionate fans."
The Big Ten Conference led the nation in home attendance (13,534 average) for the 38th-straight season, as nearly 2.9 million fans witnessed Big Ten games in 2013-14. Seven league schools ranked among the top 20 nationally.
Iowa ranked among the national leaders in home attendance in four sports during the 2013-14 year. Iowa is one of just four schools in the country to finish in the Top 25 in attendance in home men's basketball games (17th), women's basketball (22nd), and football (23rd). Additionally, the Iowa wrestling program led the country in attendance at home events in 2013-14, averaging nearly 9,000 fans per home dual match.