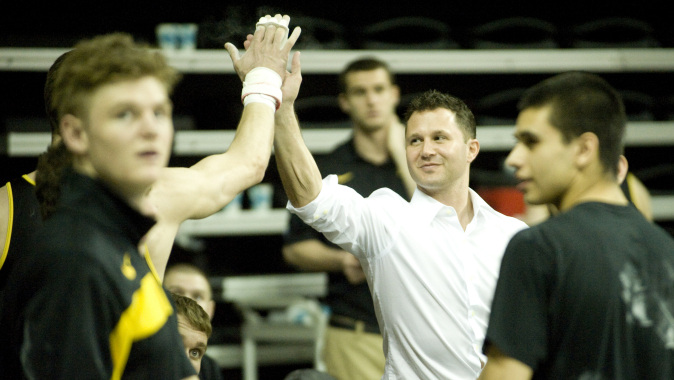 July 10, 2014
IOWA CITY, Iowa — Minyoung Kwon has been named the University of Iowa men's gymnastics assistant coach. Head coach JD Reive is excited to add Kwon, who has over 30 years of experience with the sport stemming from his time on the Korean National Team. Kwon's gymnasts have won over 50 awards since 2005.
"Kwon's technical understanding of the sport, his presence and ability to coach and teach will be a great asset," Reive said. "His background as a gymnast at the level that he competed during his professional gymnastics career and the power of the program that he came from is going to make him a huge asset for us."
Following his time on the Korean National Team, Kwon transitioned into coaching. Kwon coached and finished his graduate studies at the Korean National Sport University. When he finished graduate work, Kwon remained involved in gymnastics as a coach, judge and instructor.
"He was a judge at our US Championships," Reive said. "That's where I was introduced to him over a year ago and we had stayed in contact over the course of a year. He was very interested in a college program."
Kwon joins the staff of Reive and assistant coach Ben Ketelsen after two years at the Westside Gymnastics Club in Nashville, Tennessee, where he was the head competitive coach.
"I am fortunate to have the opportunity to work under head coach JD Reive, and I am also fortunate to work for the men's team at the University of Iowa," Kwon said.
Kwon graduated from the Korea National Sport University in 1996 with a bachelor's degree in Physical Education and went on to earn a master's degree in Physical Education in 1998.