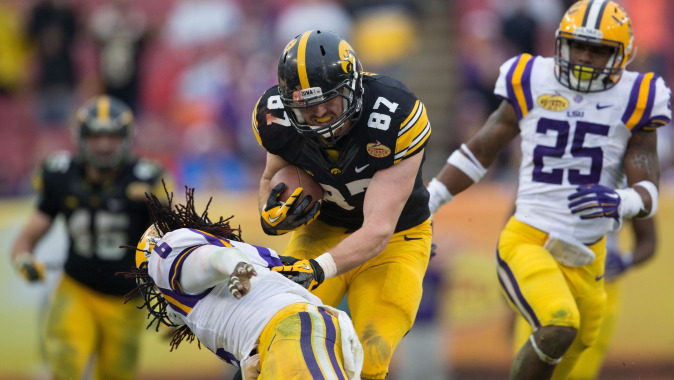 July 23, 2014
IOWA CITY, Iowa — Four University of Iowa football players — Mark Weisman, Jake Duzey, Connor Kornbrath and Kevonte Martin-Manley — were named to the 2014 College Football Performance Awards preseason Watch List, it was announced today by the CFPA Committee. The candidates earned a place on the preseason watch list based on scientific rankings of the extent to which they increase the overall effectiveness of their teams.
Weisman, who earned a spot on the Running Back Trophy Watch List, started all 13 games and garnered third-team All-Big Ten honors by Phil Steele in 2013. Weisman led the Hawkeyes in rushing with 975 yards and eight touchdowns.
Duzey, who earned a spot on the Tight End Trophy Watch List, is coming off a sophomore campaign where he saw action in all 13 games with seven starts. The 6-foot-4, 245 pound native of Troy, Michigan, had 19 receptions for 270 yards and two touchdowns.
Kornbrath was named to the Punter Trophy Watch List after finishing with a 40-yard average on 65 punts last season. He capped his sophomore campaign with 11 punts of 50+ yards, 27 that resulted inside the opponent's 20-yard-line. Iowa opponents averaged just 4.9 yards per return a year ago, a figure that ranked fourth in the Big Ten and 24th nationally.
Martin-Manley earned a spot on the Punt Returner Trophy Watch List following a stellar junior season. The Pontiac, Michigan, native picked up 314 yards and two touchdowns on 20 attempts, which ranked second in the Big Ten and eighth in the nation. Martin-Manley became the first Big Ten Conference player to ever return back-to-back-punts for touchdowns last season against Western Michigan, and just the second player in the last decade with two punt return touchdowns in one quarter. His 184 return yards in a game ranks second best all-time in Big Ten history.
For more information about the College Football Performance Awards visit: collegefootballperformance.com
The Hawkeyes will open the 2014 season by hosting Northern Iowa on Aug. 30 inside Kinnick Stadium. Tickets are available for purchase by contacting the UI Athletics Ticket Office at (800) IA-HAWKS, or online at hawkeyesports.com