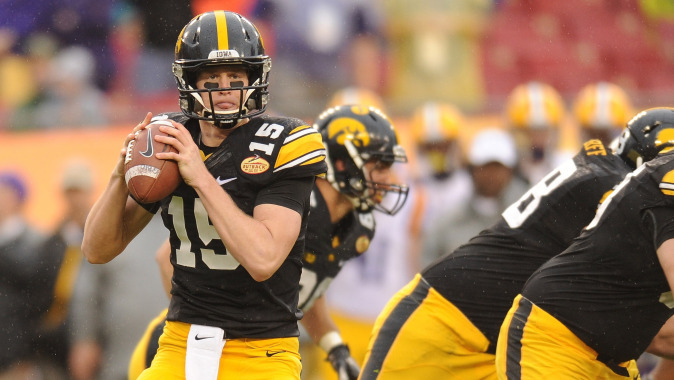 July 29, 2014
Big Ten Network: Free Hawkeye Video

Editor's Note: The following first appeared in the University of Iowa's Hawk Talk Daily, an e-newsletter that offers a daily look at the Iowa Hawkeyes, delivered free each morning to thousands of fans of the Hawkeyes worldwide.

By JAMES ALLAN
hawkeyesports.com

CHICAGO — ESPN college football analyst Chris Spielman sees the University of Iowa football team as a player in the Big Ten Conference's West Division, thanks in part to the return of junior quarterback Jake Rudock.

"From high school to the NFL, if you don't have a quarterback, you don't have a chance," said Spielman. "That's how football has evolved. I like Jake, he's a quarterback that is going to play better than he did last year."

In his first season as starter, Rudock started all 13 games, completing 204-of-346 attempts for 2,383 yards with 18 touchdowns. He ranked fifth in the conference in total offense (208.7 yards) and sixth in passing yards (190.1 yards per game).

"Jake was good (in 2013), and I saw room for improvement," said Spielman. "I know he's a hard worker and has talent, and Iowa needs the talent around him to improve. If they can develop the wide receivers, to go along with the tight ends — which are a big part of their offense — then he has a chance to be good."

The Hawkeyes return two of their top three receivers and nine of their top-11 pass catchers from a season ago, including senior Kevonte Martin-Manley, who paced the team with 40 catches for 388 yards. Iowa also has improved depth with a trio of redshirt freshmen — Derrick Willies, Andre Harris, and Derrick Mitchell, Jr. — listed on the wide receiver depth chart.

With an experienced offensive line returning, Spielman believes Iowa's deep core of running backs — Mark Weisman, Jordan Canzeri, Damon Bullock and LeShun Daniels, Jr. — will be able to run the ball in 2014. That coupled with Rudock's growth will determine the team's success.

"If they're able to run the football, and Rudock is able to improve like we think he can improve, they'll be really good," said Spielman.

Spielman says the Iowa coaching staff's track record in player development will ease the loss of senior linebackers Christian Kirksey, James Morris, and Anthony Hitchens. Senior Quinton Alston, junior Travis Perry, and sophomore Reggie Spearman are candidates to step into the starting lineup.

"That's the challenge, but they're good coaches," he said. "They do a great job of identifying and developing talent and by their sophomore or junior year, those guys are ready to be two-year starters. At the linebacker position, those guys are going to have to step up."

With 13 starters returning, Spielman believes Iowa will be in the thick of things in a strong Big Ten West Division with Nebraska, Wisconsin, and Northwestern.

"It's good for them to have high expectations, and they should have high expectations," he said. "That's what it has to be. They're poised to do big things."

The Hawkeyes will open the 2014 season by hosting Northern Iowa on Aug. 30 inside Kinnick Stadium. Tickets are available for purchase by contacting the UI Athletics Ticket Office at (800) IA-HAWKS, or online at hawkeyesports.com.