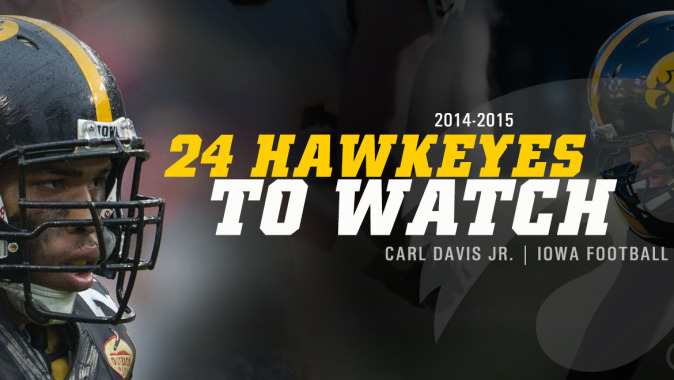 Aug. 4, 2014
Editor's note: 24 Hawkeyes to Watch is a feature released Monday, Aug. 4, highlighting one athlete from each of the 24 intercollegiate sports offered by the University of Iowa. More than 700 talented student-athletes are currently busy preparing for the 2014-15 athletics year at the UI. Hawkeyesports.com will introduce you to 24 Hawkeyes who, for one reason or another, are poised to play a prominent role in the intercollegiate athletics program at the UI in the coming year.
By DARREN MILLER
hawkeyesports.com
IOWA CITY, Iowa — To the doctors and teachers that said Carl Davis was overweight, who's smiling now?
Truth is, Davis was — and still is — a large and athletic young man. Now a 6-foot-5, 315-pound fifth-year senior defensive tackle on the University of Iowa football team, Davis is an All-Big Ten Conference selection with a goal of being All-America.
Just think, Davis and the sport of football almost never happened.
The snickers started in fourth grade when a P.E. teacher brought a scale to class. Everybody weighed in.
"I was happy," Davis recalls. "I was a big guy. I stepped on the scale and I was 230."
"That's not good," his teacher said.
Davis was dazed. He was a legend at recess; no one could touch him in basketball or any sport for that matter. And now they're saying his weight is "not good?"
"It made me mad," Davis said. "You have doctors telling you you're obese and you're a young kid. When I think of obese, I think of you can't move, but they have all these guidelines, and I don't believe in those."
The heartache wasn't over. Davis couldn't participate in a local Police Athletic League football program because of his size. His age group played in the C League, but his weight was 60 pounds more than was allowed in the A League for the oldest children.
Davis had an option to join a team and work out until he got down to an "acceptable" weight, but he wasn't interested.
"I played basketball and did whatever I could get myself into," Davis said. "Everybody came to my house and we played in my back yard. If there wasn't a lot traffic, we pulled the rim to the street and played basketball until the sun went down."
Davis also tried boxing, but his size put him in the ring against more mature competition.
"They used to knock me around a little bit, but it made me tougher," he said.
Instead of football, Davis spent his adolescent years on AAU basketball courts.
| | |
| --- | --- |
| | "The difference was my mentality: lining up, going to work, and not worrying about anything. I had to be more mature and start playing football. That's what it came down to; I was thinking too much and trying to make too many plays. If I play within the defense I will be fine. All I wanted to do was win games and that's how I am now." |
"I truly thought I was going to be the first 300 pound point guard."
Even when he began playing organized football as a freshman in high school, things weren't rosy. Davis was continually slotted on the offensive line, but he wanted to play defense.
"I hated football. I played offensive tackle and I hated it," Davis said. "I went to three different high schools. At my last high school (Stevenson in Sterling Heights, Michigan) they put me at offensive tackle and I asked them to try me at defensive tackle. Coach (Rick) Bye finally gave me a chance. I caused a little bit of havoc and he let me play. I'm thankful for the opportunity he gave me."
Bye plugged Davis at defensive tackle as a junior; he was a two-way player the next season.
As a high school senior, Davis compiled 58 tackles with six sacks. He also blocked two field goals and intercepted a pass. In Davis's two seasons, Stevenson won 23 of 26 games and advanced to the 2009 Division 1 state championship.
Davis redshirted with the Hawkeyes in 2010 and in 2011 he missed five games because of injury. As a sophomore in 2012, Davis saw action in 11 games.
"I was discouraged. Here I am ready to go into my fourth year and I haven't started a game," Davis said. "It was hurting me. I knew I could do it, but I didn't know what the possibilities were."
He got his first start in the 2013 season opener against Northern Illinois and Davis remained in the starting lineup the next 12 games. He finished with 41 tackles, including a career-high eight during a 24-21 win against Michigan.
"The difference was my mentality: lining up, going to work, and not worrying about anything," Davis said. "I had to be more mature and start playing football. That's what it came down to; I was thinking too much and trying to make too many plays. If I play within the defense I will be fine. All I wanted to do was win games and that's how I am now."
Davis enters his final season of college on watch lists for the Bednarik Award (top defensive player), Outland Trophy (outstanding interior lineman), Rotary Lombardi Award (lineman of the year), and Bronko Nagurski Trophy (defensive player of the year). He has been named to preseason All-America and All-Big Ten teams.
"It is more of the road he traveled," UI head coach Kirk Ferentz said. "He battled through injury. Two years ago he didn't know his potential, last year he started figuring it out. This last spring he started enjoying the fact that, `Hey, maybe I am pretty good.' I think he is starting to get that, and not in an ego way."
When Davis arrived at Iowa, the Hawkeyes were loaded on the defensive line with Adrian Clayborn, Mike Daniels, Karl Klug, and Christian Ballard. All four were drafted and played in the NFL.
"I knew I wanted to be like those guys. They made a lot of plays, so I am trying to continue the tradition," Davis said. "That group was tough. I remember watching games where they just kept going and didn't sub out. They had a drive and hunger to make plays."
Davis has incorporated that ambition, too. His career mirrors the advice he offers UI underclassmen: stay the course, it's a marathon.
The Hawkeyes are coming off an 8-5 season and a trip to the Outback Bowl after winning four games in 2012. The "terrible" feeling of 4-8 as a sophomore motivates Davis.
"We made a jump last year, but we weren't happy because we still lost five games," he said. "We have to take the approach we took in the offseason: keep our head down and hammer away."
Ferentz added that Davis now appreciates the fact that aggressiveness is allowed on a football field.
"He's learning how to do that pretty well," Ferentz said.
Ironically, after all the "hefty" demons he has conquered since fourth grade, Davis is still occasionally haunted by the scale.
"When I miss (the 315-pound) weigh-ins (strength and conditioning) coach (Chris) Doyle tells me I have to cut it down," Davis said. "If I'm a little higher, I'm running. If I don't make the weight limit, I will run."
Even extra conditioning doesn't keep Davis from flashing his trademark smile. It's a big, fat smile.