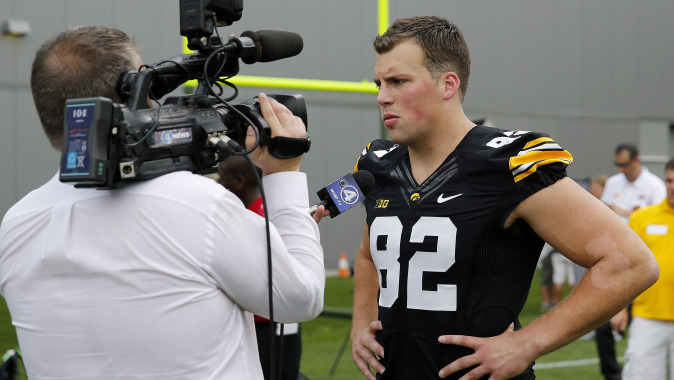 Aug. 6, 2014
Editor's Note: The following first appeared in the University of Iowa's Hawk Talk Daily, an e-newsletter that offers a daily look at the Iowa Hawkeyes, delivered free each morning to thousands of fans of the Hawkeyes worldwide. To receive daily news from the Iowa Hawkeyes, sign up HERE.
By ERIC CLARK
hawkeyesports.com
IOWA CITY, Iowa — Ray Hamilton's 11 career receptions don't accurately depict his importance to the University of Iowa's offense.
Having appeared in 34 games in three years as a Hawkeye, Hamilton, a senior, is the most experienced tight end on the roster. The Strongsville, Ohio, native and fellow tight ends Jake Duzey (a junior), Henry Krieger-Coble (junior), and George Kittle (sophomore) all saw action in at least 12 games last season, and all four are expected to compete for significant playing time following the departure of C.J. Fiedorowicz to the NFL.
Hamilton relishes the opportunity to lead and vie for snaps within one of the deepest position groups on the team.
"We all have the same mentality," he said. "You want to go out there and be the man. Nobody's rolling over. There's healthy competition within our group, and we all bring something different to the table."
Despite the upcoming battle for position on the depth chart, Hamilton maintains that the tight ends are a tight-knit group with a team-first mentality.
| | |
| --- | --- |
| | "I wouldn't call it pressure. But everyone is aware of what it means to play tight end (at Iowa). We're just focused on doing our part every day." |
"We have a lot of fun with it," he said. "The more of us, the merrier. We love going two tight end, three tight end sets. We love being out there with each other."
Last season Duzey caught 19 passes (two for touchdowns), Hamilton had eight catches, and Kittle hauled in five for an average of 21.6 yards per reception. Krieger Coble didn't have a catch last year, but as a freshman in 2012 he caught four for 30 yards and a touchdown.
Kittle said there is no question that Hamilton is the voice of the Hawkeye tight ends.
"He's the leader of our group," said Kittle. "He's a top blocker and an excellent route runner. He does a lot of good things for the offense.
"He's a vocal guy. He'll pick guys up if they're having a bad practice, and he sets a great example."
Hamilton steps into the shoes of Fiedorowicz, who was drafted by the Houston Texas with the 65th overall pick in the 2014 NFL Draft. Fiedorowicz ranked second on the team in receiving in 2013, hauling in 30 receptions for 299 yards and six touchdowns.
Hamilton said he and his teammates see the 2014 season as an opportunity to further Iowa's legacy of producing high-caliber tight ends.
"It's one of the main reasons I came to Iowa," he said. "It means a lot, and you want to live up to the expectations and produce to do your part to carry on the tradition."
Former Hawkeye tight ends Scott Chandler (2003-06), Brandon Myers (2005-08), Tony Moeaki (2005-09), Allen Reisner (2007-10), and Fiedorowicz (2010-13) are all currently on NFL rosters.
Hamilton is mindful of expectations for him, given the collegiate and professional success of his predecessors.
"I wouldn't call it pressure," he said. "But everyone is aware of what it means to play tight end (at Iowa). We're just focused on doing our part every day."
For now, Hamilton won't focus on boosting his draft stock or joining the former Hawkeye tight ends in the NFL. He's focused on leading Iowa to another January bowl game.
"Being a leader is a big theme this year," he said. "It's my job to get out there, do my part, and help lead these guys."