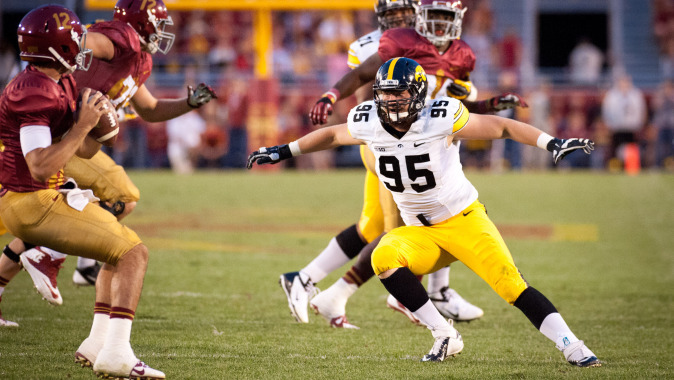 Aug. 6, 2014
Practice No. 3 Photo Gallery

Q: There are high expectations for the team this year. How do you stay grounded and continue to improve?
A: Not listening to the talk outside of the complex, focusing on us and on getting better, and watching film.
Q: What goals do you have on the field this year personally?
A: I want to do my job the best I can every game.
Q: You have a lot of experience under your belt heading into your junior season. How does that help you as a player and translate to the rest of the defense?
A: It helps me because I know what to expect throughout a game week and what to expect throughout the season. I think it will help the team because I can convey that to people who maybe haven't played as much so they know what to do. I can help them learn from my mistakes from last year.
Q: What is your favorite part of being a Hawkeye?
A: Playing football games and training. It gives me something to do when I'm not in class.
Q: What is your favorite part of home games at Kinnick?
A: The atmosphere of the crowd getting wild. It makes a lot of adrenaline go through my body. It's always a good rush.
Q: Who would you say is a teammate to watch on defense this year?
A: I think Louis Trinca-Pasat will have a good year, Carl Davis of course and Nate Meier — I think he's up-and-coming.
Q: How about on offense?
A: I don't know that much about offense, but Brandon Scherff, Mark Weisman and Jake Rudock. Think they'll all be pretty good and we should have a good line.
Q: Do you have any advice to young players striving to be a college football player?
A: Wake up every morning and work out. Eat breakfast.
Q: What has been your most memorable moment of your Iowa career?
A: Winning in Lincoln last year. I'm from Nebraska so it was nice to go home and get bragging rights for a year. Then beating Northwestern in overtime was a good time.
Q: Which teammate would you say is the class clown or comedian? What makes him so funny?
A: Darian Cooper. He always has some smug comment for someone. He's not afraid to crack a joke at anyone. No one is safe.
Q: What is your favorite place to eat in Iowa City? What is your order?
A: El Ranchero. Get the burrito grande.
Q: Will you be keeping the beard this season?
A: Yeah. I already put up with it in the hot months, so it's only going to benefit me more as it gets colder.
Q: How do you deal with the beard in the heat?
A: Hydrate a lot. It's all about hydration.
Q: Do you have any long moped trips scheduled for this year?
A: Not this year. One and done.