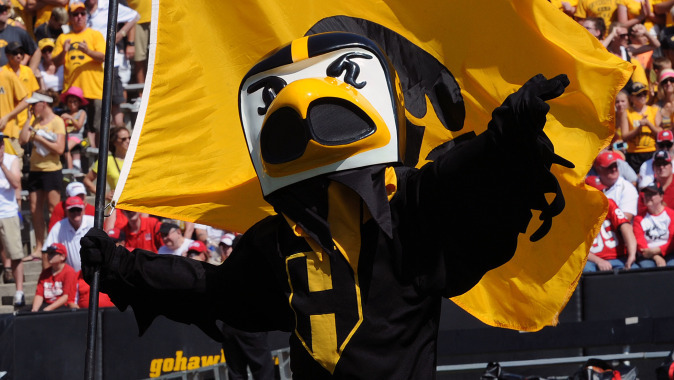 Aug. 8, 2014
IOWA CITY, Iowa — The University of Iowa football team will stage its annual "Kids Day at Kinnick" Saturday, Aug. 16. Kids Day is presented by Kohl's Keeping Kids Safe at University of Iowa Children's Hospital.
Gates to Kinnick Stadium will open at 10:45 a.m., with the team's practice scheduled to begin at 11:45 a.m. Team members will sign autographs at 11:15 a.m., along the front of the west and south stands. Free schedule posters, cards, magnets, keytags, and rosters will be available inside all open gates. Fans are discouraged from bring additional items to be autographed.
Prior to the action on the field, activities will be held in the Krause Family Plaza, which opens to the public at 9:30 a.m. Hawkeye Fans are invited to visit the Elite Chevy Dealers Kids Zone for games, face painting, and free t-shirts for kids, and to meet Herky. The Iowa mascot will be available for photos from 10:30 to 11 a.m. Families can also learn more about joining the Junior Hawk Club, presented by Cheetos and Frito Lay.
The activities will include a clothing drive by Stuff, Etc., to benefit the UI Children's Hospital. Stuff, Etc. is a quality consignment store – offering name brands at one-third retail prices. Fans are encouraged to bring any gently used clothing (adult and youth sizes accepted), household items, and toys. All proceeds from donations will help raise money for the University of Iowa Children's Hospital. The Stuff, Etc. Donation Truck will be set up at 8:30 a.m. Fans are welcome to drop off their donations outside of Gates A or D anytime between 8:30 and noon.
Free parking will be available on hard surface lots, while normal ramp fees will be charged. Concession stands will be open, with items being sold at reduced prices.
Fans attending Kids Day should enter Kinnick Stadium at Gates A (south end zone) and E (west side). Regular season game-day search procedures will be in place and fans will be allowed to sit in the south and west stands.
Fans should note that there will be no access to the playing surface of Kinnick. Fans are also reminded that the annual "Kids at Kinnick" activity is designed primarily for the enjoyment of younger fans. Therefore, the possession of an open container of beer or wine or consumption of hard liquor on University property, including parking lots, is prohibited by law. Law enforcement officers will be asking fans to empty containers and citations will be issued, if the case arises.
Iowa opens its 2014 season Saturday, Aug. 30, hosting Northern Iowa (11 a.m., BTN). Additional home games include Ball State (Sept. 6, 2:30 p.m., ESPN2), Iowa State (Sept. 13, 2:30 p.m., Indiana (Oct. 11, Homecoming, 11 a.m.), Northwestern (Nov. 1, TBA), Wisconsin (Nov. 22, TBA); and Nebraska (Nov. 28, TBA).
The UI Athletics Ticket Office is selling single-game tickets for Iowa's seven home games to the general public. Single-game tickets are priced as follows: $70 each for Iowa State, Wisconsin and Nebraska games; $65 each for Indiana and Northwestern; $60 for Northern Iowa; and $55 for Ball State. Discount-priced youth tickets, for boys and girls high school-aged and younger, are available for the Northern Iowa, Ball State, Indiana and Northwestern games at a cost of $25 each.
Tickets may be purchased online at hawkeyesports.com or by phone at 1-800 IA-HAWKS. The UI Athletics Ticket Office, located in Carver-Hawkeye Arena, is open from 9 a.m. to 4 p.m. Kinnick Stadium ticket windows (outside south end zone) will be open from 9:30 to 11:30 a.m.
Fry Fest will also be held the weekend of the opening home game. For more information about the 2014 Fry Fest, visit FRYFest.com, or call the Iowa City/Coralville Convention and Visitor's Bureau at 1-800-283-6592.