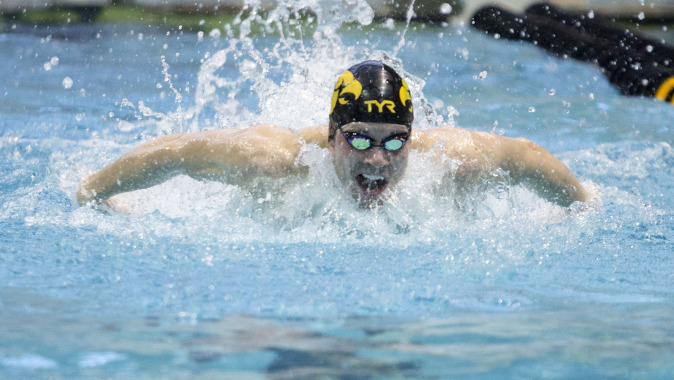 Aug. 9, 2014
IRVINE, Calif. — Five University of Iowa swimmers — Mike Nelson, Grant Betulius, Kyle Patnode, Brian Donatelli and Emma Sougstad — took part in the Hawkeyes third and final day of competition at the Phillips 66 National Championships in Irvine, California.
Nelson and Sougstad competed in the 100-meter breaststroke in the morning session.
Nelson finished 62nd after recording a time of 1:04.46 in the qualifying heat. Sougstad earned a 15th place finish and a bid to the finals after recording a time of 1:09.19. Later on in finals competition, Sougstad placed 16th with a time of 1:09.93.
Betulius, Nelson, Patnode and Donatelli competed in the 400-meter medley relay in the evening session. The quartet placed 14th after recording a combined time of 3:51.45.
The Hawkeyes will enter the pool again Oct. 3 when Iowa hosts Michigan and Nebraska.