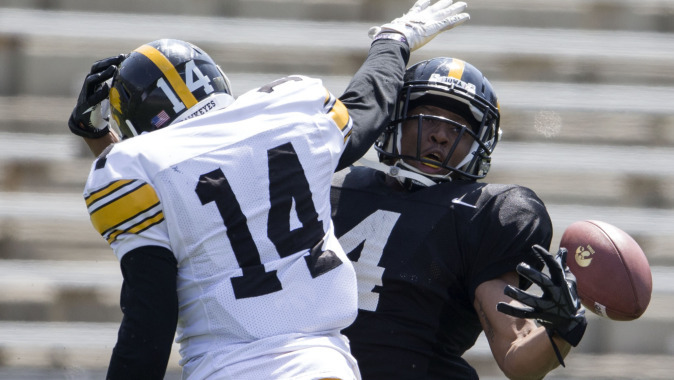 Aug. 11, 2014
Editor's Note: The following first appeared in the University of Iowa's Hawk Talk Daily, an e-newsletter that offers a daily look at the Iowa Hawkeyes, delivered free each morning to thousands of fans of the Hawkeyes worldwide. To receive daily news from the Iowa Hawkeyes, sign up HERE.
By MATT WEITZEL
hawkeyesports.com
IOWA CITY, Iowa — Linebacker Reggie Spearman and cornerback Desmond King were two of four University of Iowa true freshmen to see game action in 2013. Now, entering camp in their second season, the duo find themselves at the top of the depth chart at their respective positions.
King played in all 13 games a year ago, collecting 69 tackles — the most by a Big Ten freshman defender. The Detroit native was inserted into the starting lineup in week two after Jordan Lomax went down with an injury. He didn't realize he would make an impact that quickly.
"I was nervous because it was first game, and I was still in the process of learning the defense," said King.
King wasn't the only player fighting nerves stepping on to Kinnick Stadium for the first time.
"Last year I feel like I got all the nervousness out of my system when stepping on to the field for the first time," Spearman said. "Now that I'm used to being out there and have that nervousness out of my system, I'm ready to go out there and compete."
Last year, Spearman got his first taste of game action in week four against Western Michigan. He saw a majority of his time on the kickoff team, but as the season progressed defensive coordinator Phil Parker began inserting the Chicago native in on third down packages.
"It was great that the coaches had the confidence in me as a freshman, but I still had to gain their trust by going out there and making plays," said Spearman. "I'm thankful that I gained their trust."
"He has improved at every turn, every opportunity," said UI head coach Kirk Ferentz of Spearman. "He does a lot of good things. We're eager to see what he does here in the next three weeks during camp."
Spearman's mentor last year was Anthony Hitchens, who led the team in tackles and was drafted by the Dallas Cowboys. Hitchens took Spearman him under his wing.
"(Hitchens) taught me almost everything I know," said Spearman. "He taught me what to look for when watching film — how to read plays before they happen by recognizing certain personnel and formations. He was like a big brother to me, and I'm so grateful that he was here to show me. One of the biggest things I wanted to learn is to see a play before it happens."
King's dream to be a Big Ten cornerback came true last season and now he wants to improve every day to give the Hawkeyes an opportunity to win.
"Coming into college I felt that I had a statement to prove that I can be just as good as anybody else," King said. "Last year was a step forward, but I have room for improvement."
"For (Desmond) to walk in last year as a true freshman and perform the way he did, at a very tough position, it's really admirable of him," Ferentz said.
The Hawkeyes open the season Aug. 30, against Northern Iowa. Kickoff is set for 11 a.m. (CT) at Kinnick Stadium. Tickets are available by calling 1-800-IA-HAWKS.