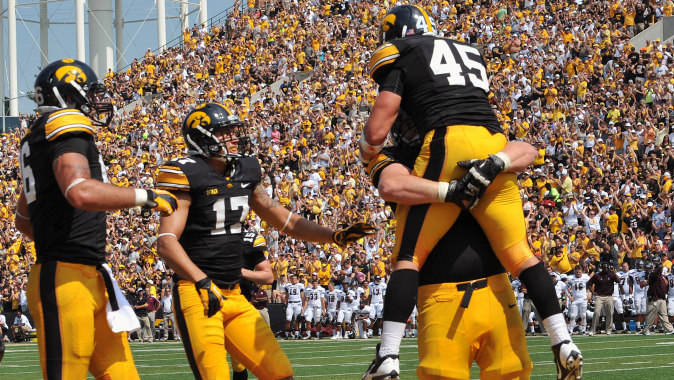 Aug. 12, 2014
IOWA CITY, Iowa — The University of Iowa Athletics Ticket Office is now accepting orders for single game football tickets from current UI students.
Tickets are available on a single game basis for all home games of the 2014 Iowa Hawkeyes, except the annual Iowa Corn Cy-Hawk Series event with Iowa State on Sept. 13. A limited number of tickets to that game are available, but, at the present time, those can only be purchased as part of a season ticket purchase by a member of the general public, UI faculty and staff, or UI student.
Current UI students can make their purchase online behind the "BUY TICKETS" link in the upper right hand corner of hawkeyesports.com, the official web site of the Iowa Hawkeyes, and then following instructions for ticket purchases by UI students. UI students must be signed into their student account.
The price of single game tickets for UI students and UI student guest tickets are listed below. A student who purchased a seven-game or six-game student season ticket paid $25 per game.
Northern Iowa (Aug. 30)
UI Student: $30
UI Student Guest: $40
Ball State (Sept. 6)
UI Student: $25
UI Student Guest: $30
Indiana (Oct. 11)
UI Student: $30
UI Student Guest: $40
Northwestern (Nov. 1)
UI Student: $30
UI Student Guest: $40
Wisconsin (Nov. 22)
UI Student: $35
UI Student Guest: $55
Nebraska (Nov. 28)
UI Student: $25 – General Admission in the student area
UI Student Guest: $40 – General Admission in the student area