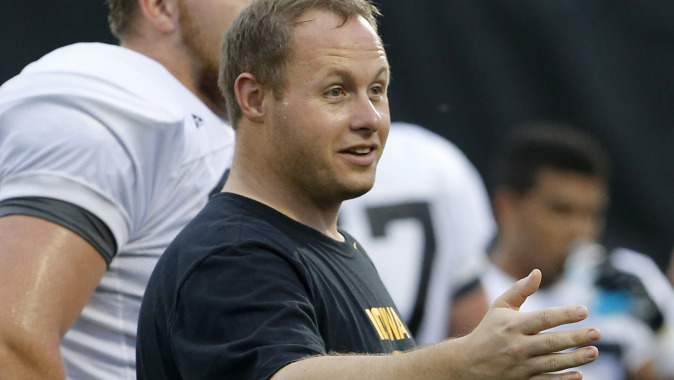 Aug. 13, 2014
Fall Camp Practice No. 12

Editor's Note: The following first appeared in the University of Iowa's Hawk Talk Daily, an e-newsletter that offers a daily look at the Iowa Hawkeyes, delivered free each morning to thousands of fans of the Hawkeyes worldwide. To receive daily news from the Iowa Hawkeyes, sign up HERE.
By DARREN MILLER
hawkeyesports.com
IOWA CITY, Iowa — Seth Wallace was named recruiting coordinator and defensive assistant coach for the University of Iowa football program in June. Wallace earned a bachelor's degree from Coe College in 2001 and a master's degree from the University of Iowa in 2008. He was most recently defensive coordinator at Valdosta State University in Georgia.
What advantages are there to being the son of a football coach, especially when you go into this profession? (Wallace's father Greg was head football coach at Grinnell College from 1988-2007)
Football has been part of my entire life. I have seen my father do it the right way; there is so much that he stands for that I have taken from him. In a lot of ways that is why I am so attracted to the way (University of Iowa head) coach (Kirk) Ferentz does things — it is similar. They are good people, you have a great program here from the top down; it is a wonderful opportunity.
How beneficial were your years at Valdosta State?
It was great for me to get away. When I got to the University of Iowa, all I had experienced was being in the Midwest. Going to the Southeast opened my eyes to seeing things differently. I don't know that it changed who I was or what type of coach I was, but it gave me a different perspective looking at recruiting a different area, a different type of player, the way football is viewed down there. It gave me a broader vision of football.
In what specific areas did you grow there?
For me, the growth was going somewhere I had never been. Recruiting is completely different down there; you're recruiting a different pool of candidates. To go down there and get involved in that and to figure it out on your own was huge for me. I went down there as a position coach, I took over as a coordinator after being down there for two years. Obviously there is a lot of growth when you start to deal with your defensive staff as well as players. All eyes are on you as a coordinator, that growth was valuable and something I would imagine helped me get back here.
What excites you most about your new responsibilities at the University of Iowa?
The opportunity to take on a challenge. Recruiting, whether (previous recruiting coordinator) Eric (Johnson) was here or I am here, is a challenge every year. Things are changing. Prospects are making decisions earlier. There is so much that goes into recruiting that it is going to give me an opportunity to put my finger print on it. To me, that is what I'm looking forward to. It's not like you will see the changes we have made recruiting-wise every Saturday — you probably won't see it for two or three years down the road. Knowing that you're constantly dealing with people in the schools, prospects, coaches, parents, teachers, you get an opportunity to be around them, and that's why I was attracted to this position.
What is the first thing you crossed off your to-do list once you returned to Iowa City?
There have been some changes on this staff and I didn't know some of the folks when I got back here. That is odd because a lot of coach Ferentz's staff has stayed in place for 16 years. Some of those that I had developed good relationships with are no longer here. Getting back here and getting familiar with the current staff that is in place — those that I didn't know, building relationships with them, figuring out the lay of the land and how that had changed in the five years I had been gone. Then, just going to work. Recruiting is work; it's an everyday job, there is no day off, and getting familiar with everything.
Was a return to the Hawkeyes always something that interested you or was it just right job and the right time?
I would be crazy telling you I didn't want to come back here. I knew I had to go off when I left as a (graduate assistant in 2009) and do it on my own. I was fortunate the timing was right and it happened.
What is the easiest thing to sell about the University of Iowa to high school recruits?
The easiest thing to sell is this program as a whole, if you can get an individual here to see it. They have to want to come here. But once they come here, you start with the people and those on this staff, this program, the community in Iowa City. People will recognize that once they are here and then you can go down the list from our graduation rate to the number of guys we have in the NFL, which is much greater than a lot of programs. Facilities obviously are headed in a completely different direction and we're going to be ahead of most programs in the country facility-wise.