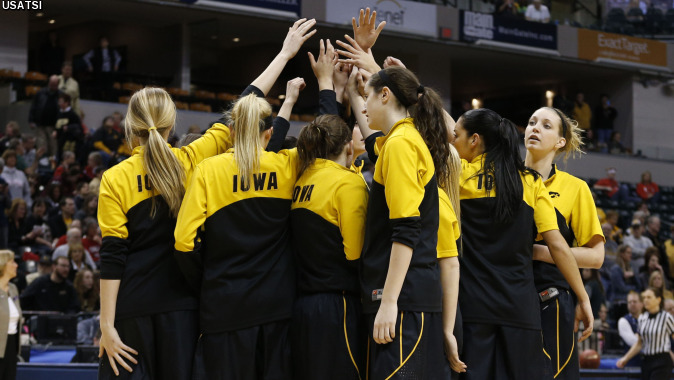 Aug. 21, 2014
2015 Big Ten Composite Schedule

IOWA CITY, Iowa — The Big Ten Conference announced its 2015 women's basketball schedule Thursday. The University of Iowa women's basketball team will play 18 conference games, including nine on Mediacom Court in Carver-Hawkeye Arena.
With the addition of Maryland and Rutgers, the 14 league teams will compete in an 18-game conference schedule, playing five teams both home and away and eight teams once. Each team will play four of its single-play opponents at home and four on the road. The list of Iowa's Big Ten single-plays and home-and-away opponents can be found below:
Home: Indiana, Michigan, Penn State, Purdue
Away: Illinois, Maryland, Michigan State, Rutgers
Home/Away: Minnesota, Nebraska, Northwestern, Ohio State, Wisconsin
The Hawkeyes' conference slate begins Dec. 28 in Carver-Hawkeye Arena against three-time defending league champion Penn State, and concludes with the annual Big Ten Tournament, March 4-8. This year's tournament returns to the Sears Centre in Hoffman Estates, Illinois.
Iowa's home league schedule includes four weekend games, four midweek dates, and one Monday matchup. Iowa will play five of its first eight conference games at home. Six of the next eight games will be on the road, and the final two will be contested in Carver-Hawkeye Arena.
Start times and television information will be released at a later date.
Iowa returns 10 letterwinners from a team that went 27-9 in 2014 and made its Big Ten-best seventh-consecutive NCAA Tournament appearance. The Hawkeyes open the regular season on Nov. 14, hosting USC Upstate at Carver-Hawkeye Arena.
Tickets are available by visiting the ticket office at Carver-Hawkeye Arena, calling 1-800-IA-HAWKS, or online at hawkeyesports.com
.