Box Score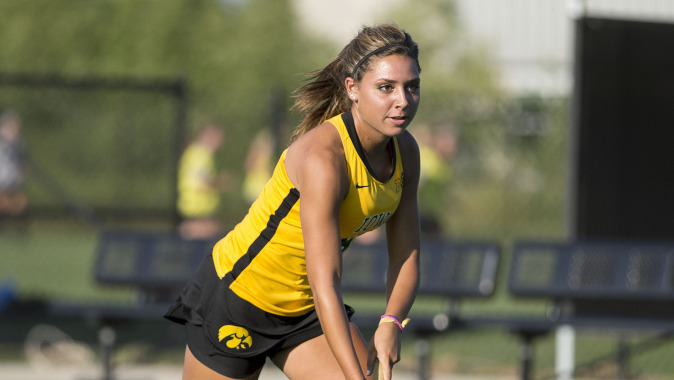 Aug. 31, 2014
CHAPEL HILL, N.C. — The No. 20 University of Iowa field hockey team (1-1, 0-0) came up short at No. 2 North Carolina (2-0, 0-0) on Sunday, 4-1, in Chapel Hill, North Carolina at the ACC/Big Ten Challenge.
The Tar Heels took an early 1-0 lead in the first minute of the game coming off the stick of Loren Shealy. The home team's momentum continued as the Tar Heels climbed to a 4-0 advantage going into the half.
"We gave up a goal 21 seconds into the game and it was as if we were playing on our heels from that point forward," UI head coach Lisa Cellucci said. "We wanted to come out and set the tone early. We got down 4-0 as we entered the half and just weren't able to climb back."
The Hawkeyes came out in the second half attacking the North Carolina defense with 4-of-5 shots on goal while shutting out the Tar Heel offense in the second half. Iowa made a late push at the 61-minute mark with a goal from junior Natalie Cafone to narrow the gap, 4-1, but were unable to complete the comeback.
"I thought our halftime adjustments were good, our communication improved from the first half and we were able to slow down their offense," Cellucci said. "We have a high standard set for our expectations and the way we come out and play. I really expected more out of our play today, especially considering how well we took the field on Saturday against Wake Forest.
"Overall it was a good weekend, we just need to keep rolling, learn from our mistakes, and get ready for Virginia on Thursday," Cellucci added.
The Hawkeyes return to action Thursday in Iowa City, hosting No. 6 Virginia in their home-opener.