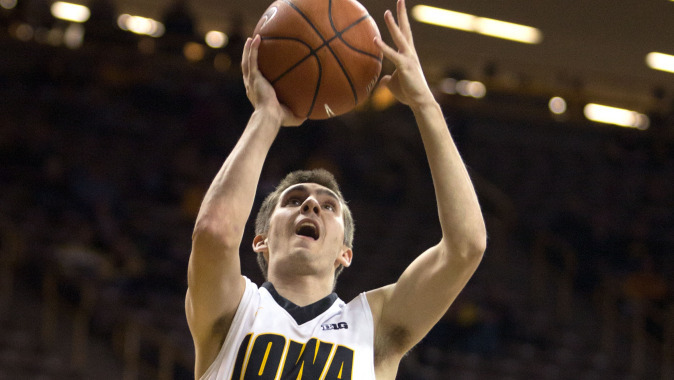 Sept. 2, 2014
Editor's Note: The following first appeared in the University of Iowa's Hawk Talk Daily, an e-newsletter that offers a daily look at the Iowa Hawkeyes, delivered free each morning to thousands of fans of the Hawkeyes worldwide. To receive daily news from the Iowa Hawkeyes, sign up HERE.
By MATT WEITZEL
hawkeyesports.com
IOWA CITY, Iowa — Senior Kyle Denning was rewarded for his three years of walk-on contribution to the University of Iowa men's basketball team when head coach Fran McCaffery awarded him a scholarship for his final season.
"I was thrilled," said Denning on his reaction to earning the scholarship. "It's a big relief for my parents because it helps them out financially. My mom cried when I told her."
Denning, a native of Waterloo, Iowa, has led the scout team in practice the last three years. His goal every practice is to make his teammates better.
"I want to make the starters and reserves as well prepared as possible for their game," said Denning. "I want to give them the best look that they are going to see on game day."
Not only is senior Josh Oglesby a classmate of Denning, but he has been his roommate since their sophomore year. Oglesby says Denning is a tough competitor.
"He comes to practice each day with an attitude that he wants to play," said Oglesby. "Every practice, he pushes us guards to make us better and prepare us for our opponent.
"Off the court, he's outgoing. Kyle always seems to have a smile on his face, but when he gets on the basketball court he locks in and gets serious."
McCaffery was thrilled to be able to reward Denning with a scholarship for his final season.
"What we like to do is if a player is a solid citizen and an excellent student, we like to reward them with a scholarship, if we have one available," McCaffery said. "In this particular case, and last year with Darius Stokes, they both earned it."
McCaffery says Denning has taken great pride in running the scout team the last three seasons.
"It's not easy to learn another team's offense in essentially 15 minutes, execute it for the next three days and then learn a new one three days later," said McCaffery. "He challenges himself to make our players better."
Denning, who has seen limited action in 26 career games, says despite being a walk-on, he maintains the mindset of being game ready.
"I always feel like I'm an injury or foul trouble away from being put in the game, so I want to be prepared," he said.
Denning believes he is fortunate that McCaffery and the Hawkeye coaching staff showed the interest to offer him a walk-on spot as a freshman.
"I've always had it in the back of my mind that I could maybe work toward a scholarship," said Denning. "It has always been a goal of mine to get a scholarship, and I'm extremely thankful to have earned one my senior year."
Denning is on track to graduate in May, 2015, with a degree in leisure studies. Following graduation, he would like to get into coaching.