Sept. 9, 2014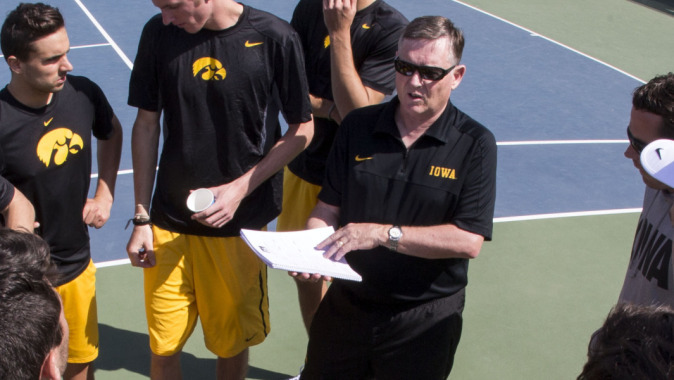 Sept. 9, 2014
Editor's Note: The following first appeared in the University of Iowa's Hawk Talk Daily, an e-newsletter that offers a daily look at the Iowa Hawkeyes, delivered free each morning to thousands of fans of the Hawkeyes worldwide.
By CHRIS BREWER
hawkeyesports.com
IOWA CITY, Iowa — One December day in 1981, Steve Houghton had a decision to make — Coach Houghton or Dr. Houghton? Which would it be?
Houghton was 32 years old, already owned a pair of degrees from the UI, and was just one dissertation away from a third — a history PhD — when former Iowa tennis coach John Winnie put him on the spot.
According to Winnie, UI Athletic Director Bump Elliot wanted Houghton to be the next Iowa tennis coach, effective immediately. Doctorate research and comprehensive exams be damned, Elliot offered Houghton a chance to lead the Hawkeyes, but only if he could commit on the spot.
It was a tough choice to make for a boy that grew up in Iowa City, fell in love with the Hawkeyes in Kinnick Stadium at age five, and played for the Hawkeyes from 1969-71.
"I remember having to decide," Houghton recalled, "say no to tennis, finish up the PhD and someday be a history professor, or take the job.
"I decided on tennis because I thought it made sense for family reasons. We knew then we would be in Iowa City instead of who knows where, but I never dreamed I'd be doing it 33 years."
Houghton's run as Iowa's all-time winningest coach ended Monday when he announced that after 47 years as a UI student-athlete and coach, including 33 seasons as head coach, he would retire his post.
Three decades after family reasons persuaded him to take the job, those same values pulled him out.
"Leora (wife) and I would sit down and analyze things," said Houghton, who has four kids and eight grandchildren, "until one day in the middle of the summer she basically said to me, `we can analyze and analyze and look at pluses and minuses, but at some point you're going to have to go with your gut on this kind of thing.'"
Again and again, just as it did in 1981, his gut turned toward family.
"Toward the end of the summer when we would go down to visit our grandkids, which I've done before many times but did more of this year, it occurred to me that I have some value as a grandfather and that grandfathers are potentially important, so that kind of rang another bell."
Houghton said it is also about time he start repaying his wife.
"As fruity as it may sound, it is payback for Leora for all these years. She's been great in terms of understanding what it's like as a coach. She has loved it, and all four of our kids loved having me as tennis coach and all the stuff that came with it, but in 33 years I have given up a lot of weekends. And even when I was at home, in some ways I wasn't because I was always thinking about tennis."
"The other thing I'm going to miss are the people around this department. I've enjoyed everybody. I felt like I got along great with the people I work with, and I'm really going to miss the people around here in a big way."

Steve Houghton
Moving forward Steve and Leora will need to think about only retirement plans. He said they would like to visit national parks, attend Iowa football games out of town, make frequent trips to visit the kids in Kansas, Missouri, Indianapolis and Chicago, and if he can conquer a long-standing distaste for flying (yes, Iowa's tennis coach has traveled by car, van, bus or train, to Iowa tennis matches for 33 years), he would like to visit Europe, a place he lived in 1973 (before flying made him physically and mentally ill).
"That's one thing I want to get solved," he said. "I loved Europe when I was over there. We lived in England and loved every bit of it."
After his love of Europe, but before his love of grandkids, Houghton found joy in coaching his players and being a Hawkeye — something he will undoubtedly miss.
"The most enjoyable part of the job has been the relationships with kids on the team," he said. "There was a surprise reunion for my 25th year and I was just floored by the number of people who came back. It was a complete surprise and I was just amazed. That thing made me feel great.
"The other thing I'm going to miss are the people around this department. I've enjoyed everybody. I felt like I got along great with the people I work with, and I'm really going to miss the people around here in a big way."
The feeling is mutual, Grandpa Houghton. Once a Hawkeye, always a Hawkeye.