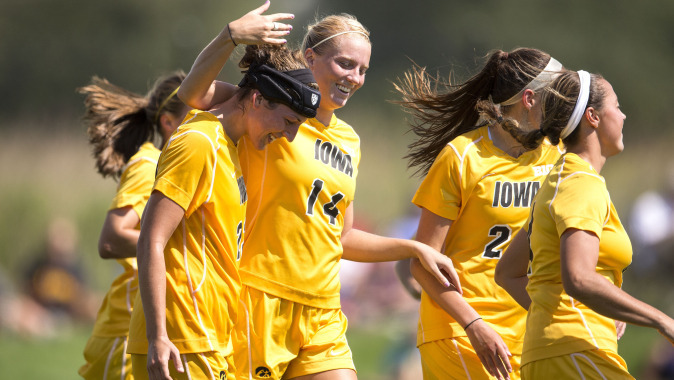 Sept. 11, 2014
Editor's Note: The following first appeared in the University of Iowa's Hawk Talk Daily, an e-newsletter that offers a daily look at the Iowa Hawkeyes, delivered free each morning to thousands of fans of the Hawkeyes worldwide. To receive daily news from the Iowa Hawkeyes, sign up HERE.
By JAMES ALLAN
hawkeyesports.com
IOWA CITY, Iowa — Nonconference records can be thrown out the window because the game-in, game-out Big Ten Conference grind begins Thursday for the University of Iowa soccer team.
The Hawkeyes open league play hosting Illinois at 7 p.m. (CT) at the Iowa Soccer Complex. Both teams bring 5-1 records into the contest.
"What we did and what everyone else did in the nonconference is a moot point," said UI head coach Dave DiIanni. "The Big Ten is a game-in, game-out grind. Physically and mentally, we need to do all the right things to be successful."
Iowa opened the year with four-straight victories over Northern Iowa (1-0, 2OT), Illinois Chicago (4-0), Fresno State (3-0), and Butler (3-2). Following a road loss at Iowa State (2-1), the Hawkeyes rebounded with a 4-0 victory at Colorado State on Sept. 7.
The Hawkeyes have dealt with (and overcome) adversity from the get-go of preseason camp, losing four players through the first month of the season. This has forced the team to build depth throughout the roster.
"We have been able to get players who don't normally play or who haven't played major roles game minutes," said DiIanni. "That has been helpful. The upperclassmen have done a nice job of leading within the team in terms of creating expectations for themselves and each other."
With 13 Big Ten games on the horizon over the next two months, DiIanni is stressing the importance of attention to detail.
"Our margin for error is not as great because of all the adversity we have battled, so we have to be in it together going into the (conference) season," he said. "One of the ways we can do that for each other is our attention to detail and our willingness to sacrifice for the greater good, which is our team."
Senior Cloe Lacasse has been stellar for Iowa through six games, leading the conference in goals (seven) and tying for the lead in points (17). The Canadian forward has already surpassed her 2013 output, where she scored six goals and had seven assists in 23 games.
"I think Cloe would tell you she should have 12-13 goals as opposed to seven," said DiIanni. "She'll get her moments; it's about finishing the chances she gets."
Along with adding sophomore Bri Toelle out front to take some offensive pressure off of Lacasse, DiIanni says the Hawkeyes are doing a good job of putting her in a position to score.
"We're getting balls into areas to help her be successful and showcasing her abilities and talents," said DiIanni. "It is a team focus for us, but you're seeing her get more chances because of the system we're playing.
"It's our team continuing to do the right things and be successful and having an impact on the game. People like Bri (Toelle), Natalie Krygier, Emily Scott, and Anne Marie Thomas… as they play well, it lessens the focus on Cloe and helps our team succeed."