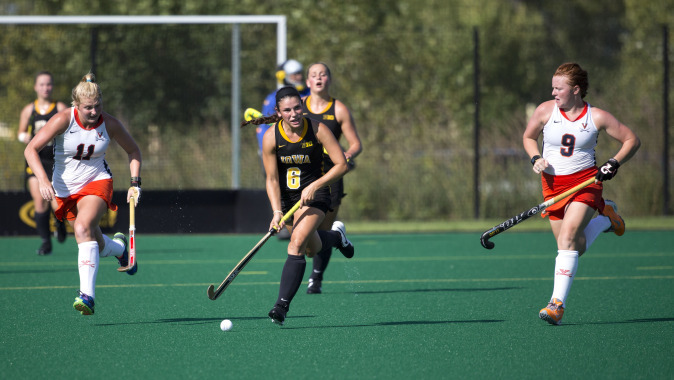 September 11, 2014
IOWA CITY, Iowa — The University of Iowa field hockey team is off to a fast start this season and looks to carry the momentum into a loaded 2014 schedule.
"To be able to open the season with two top-11 wins was great for our team," said UI head coach Lisa Cellucci. "It gave them the confidence that if they prepare, stick to the game plan, and execute, we can compete with anyone in the country."
The Hawkeyes downed No. 11 Wake Forest 4-1 in the season opener on Aug. 30 at the ACC/Big Ten Challenge in Chapel Hill, North Carolina. Iowa also knocked off No. 6 Virginia, 4-3, on Sept. 4 in the home opener.
After losing six seniors to graduation in 2013, 11 returnees add experience to the roster to go along with the addition of 10 talented incoming freshmen. This freshmen class has made a quick transition to collegiate play with all 10 having gained experience against some of the top teams in the country early on.
"The freshmen class is very talented," Cellucci said. "They are athletic, versatile, and each bring something unique about their game. They are adding much needed depth to the roster and their most valuable strength has been their willingness to learn and compete every day at practice to help the team improve."
Guiding these freshmen in their transition from high school competition to collegiate play are seniors — Dani Hemeon, Brynn Gitt, and Sara Watro.
"The senior's ability to communicate and lead by example in regards to the standards and expectations that Iowa field hockey stands for is important to help move this young team forward," said Cellucci. The talented roster doesn't end with the senior class. Junior Natalie Cafone paces the offense as she returns from a breakout sophomore season where she led the NCAA in points per game (2.48), and finished fourth nationally in goals per game (1.05). The Fairfield, New Jersey, native was tabbed All-American and named to the All-Big Ten first team. Her 2014 season has picked up right where it left off. Cafone's fast start has featured five goals this season, including a hat trick against No. 6 Virginia.
"Cafone has been phenomenal," Cellucci said. "She has improved her tactical awareness and understanding as well as her ability to communicate key changes that need to be made during game situations."
Defensively the Hawkeyes have an experienced goalkeeper in Alex Pecora (2-1). The Marlton, New Jersey, native has tallied 23 saves in three games, each coming against a top-11 ranked opponent.
"Alex is doing a great job in goal," Cellucci said. "She has made some key saves, especially on our defensive penalty corners. As she continues to develop her on-field communication, organization, and decision making, she will be a force to be reckoned with."
The Hawkeyes hit the road for a three-game stretch Thursday before opening Big Ten play at Rutgers (Sept. 21). Following the four-game road-swing Iowa returns for a home stand that includes seven of Iowa's final 10 games.
"Home field advantage has always been huge for our program," Cellucci said. "We have an outstanding all time record on Grant Field (140-46). Being at home also allows for the team to be in their own beds and stick to their routines. To not have the grind of the travel before we head into the Big Ten Tournament will be nice."
The Hawkeyes look to start their road swing strong opening play versus UC Davis at 3 p.m. (CT).