Box Score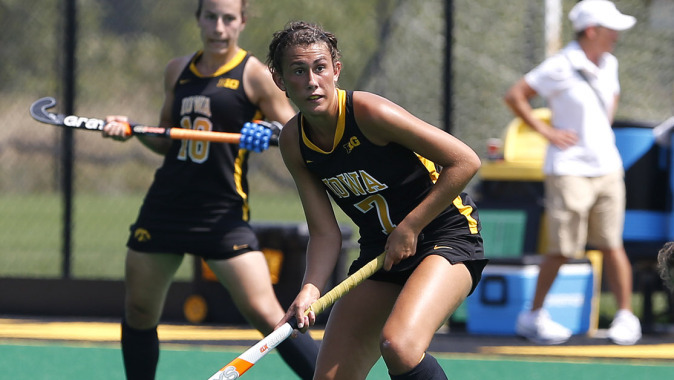 September 12, 2014
Stanford, Calif. — The University of Iowa field hockey team fell short at Stanford on Friday, 2-1, in an overtime loss at Varsity Turf Field in Stanford, California. Iowa (3-2) took a 1-0 lead in the second period before Stanford (6-0) tallied a goal in regulation with five minutes remaining, and the game winner in overtime.
"We are disappointed with the result as we played a very hard-fought match," said UI head coach Lisa Cellucci. "We executed the game plan that we had in place and put ourselves in a position to win the game as we went up 1-0 with 14 minutes left. Unfortunately, we made a costly error with six minutes left in regulation and Stanford capitalized to tie the game. Stanford is an outstanding team and we will be better from having played this game."
Defense kept the Hawkeyes alive early as they trailed Stanford in both shots (4-1), and penalty corners (2-1), in the first period. Iowa's lone chance at a score came in the 14th minute as Natalie Cafone drove for a score but was denied by Stanford's Dulcie Davies. Both teams went into intermission scoreless.
The Hawkeyes offensive struggles cleared in the second period outshooting the Cardinal, 6-2. Iowa's lone goal came in the 56-minute mark off the stick of Sophie Plasteras to give the Hawkeyes a 1-0 lead. The goal, assisted by Cafone, marked Plasteras' first score of the season.
A late goal from the home team evened the score at 1-1 with seven minutes to go. With five minutes to go in overtime, Stanford's Jessica Chisholm knocked in the game-winner closing the door on the Hawkeyes, 2-1.
Iowa is 2-2 against ranked opponents with wins over No. 11 Wake Forest and No. 6 Virginia. Both of Iowa's losses this season have come on the road (No. 2 North Carolina, No. 7 Stanford).
The Hawkeyes return to action Sunday in Stockton, California, squaring off with Pacific at 12:30 p.m. (CT).
GAME SUMMARY
#8 Stanford (6-0)
1
0
1
#7 Iowa (3-2)
2
5
7
SCORING
IOWA
Sophie Plasteras (Natalie Cafone) 53:32/2nd
STANFORD
Alex McCawley (Clemence Couteau) 63:14/2nd
STANFORD
Jessica Chisholm (Kelsey harbin) 80:02/OT
STATS
Shots
Iowa 7, Stanford 7
Penalty Corners
Iowa 5, Stanford 5
Saves
Alex Pecora (Iowa), 2