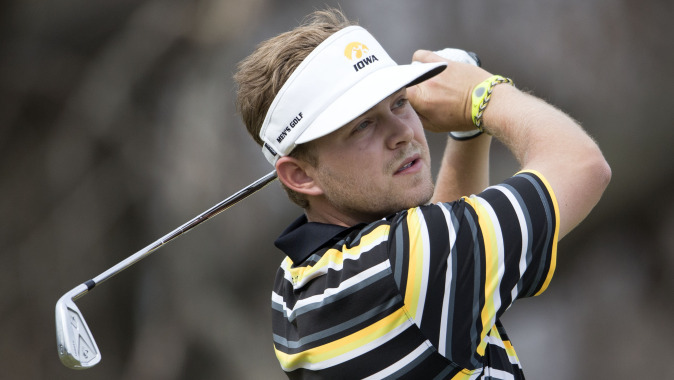 Sept. 14, 2014
Round 1 Results

BURLINGTON, Iowa — The University of Iowa men's golf team is in second place following the first round of the sixth annual Golfweek Conference Challenge. The Hawkeyes posted a two-under-par 286 on the first 18 holes at Spirit Hollow Golf Course in Burlington, Iowa. LSU leads the team race (-10), while SMU sits in third (-1).
"We were focused and started off really well," said UI head coach Tyler Stith. "Our guys had a game plan today, and they committed to it. They played well."
All five Iowa players are in the top-24 of the 60-player field. Junior Nate Yankovich paced the Hawkeyes, firing a two-under-par 70. He is tied for fourth following his career-best 18-hole score.
"Nate had a big summer, and when he came back to school this fall he fully expected to be traveling and competing," said Stith. "He proved that during our five rounds of qualifying, and he went out today and played a great round of golf."
Sophomore Carson Schaake fired a one-under-par 71, and is tied for sixth. Senior Ian Vandersee is tied for 12th following an opening round 72 (E).
Senior Brian Bullington registered a 73 (T-17th), while sophomore Raymond Knoll is tied for 24th following an opening round 74.
"We will take the same approach into tomorrow that we took today," said Stith. "We have a good game plan around this place, and we are going to go out and commit to our process and execute again tomorrow."
The second round of action at the Golfweek Conference Challenge will resume on Monday, with tee times beginning at 9 a.m. (CT) off holes No. 1 and No. 10. Play concludes Tuesday with a shotgun start at 8:30 a.m. Live stats are available at golfstat.com. ??