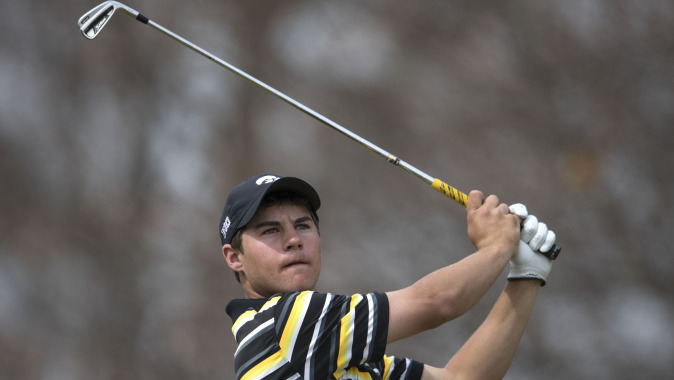 Sept. 15, 2014
Complete Day 2 Results

BURLINGTON, Iowa — The University of Iowa men's golf team is in third place of a 12-team field following the second round of the sixth annual Golfweek Conference Challenge. The Hawkeyes posted a 13-over-par 301 on the second 18 holes at Spirit Hollow Golf Course in Burlington. LSU leads the team race (-17), followed by SMU (E). LSU was the only team to shoot under par in the second round, which was delayed four hours due to rain.
"With the rain delay this morning we got off to a slower start than yesterday," said UI head coach Tyler Stith. "The effort and attitude were great, but we didn't happen to score as well today. We talk about playing a different course every day, the wind changes direction, the course was wet, and the yardage is different each day. They were fully prepared; we just didn't get the ball in the hole today."
Sophomore Carson Schaake led the Hawkeyes in the second round with a one-over-par 73. He had birdies on the second and fourth holes while shooting 35 on the front. He is tied for seventh at even par through 36 holes. Sophomore Raymond Knoll is tied for 18th after recording a three-over-par 74 on Monday. Knoll collected birdies on No. 14 and No. 1 and is four-over-par through two rounds.
"Carson was brilliant today," said Stith. "He controlled his ball well in the wind. A couple more putts could have dropped for him today and it could have easily been a better score for him."
Senior Brian Bullington registered a 76 in the second round and junior Nate Yankovich shot 79. They are tied for 24th through 36 holes. Senior Ian Vandersee is tied for 28th following a round of 78 Monday. Vandersee was at even par following Sunday's opening round. His lone birdie in the second round came on the 14th hole.
"Today was just the second day of a three day event," said Stith, in looking forward to Tuesday's final 18 holes. "There is still a long way to go. I fully expect our guys to be prepared and play well tomorrow."
Play at the Golfweek Conference Challenge concludes Tuesday with a shotgun start at 8:30 a.m. (CT). Live stats are available at golfstat.com.