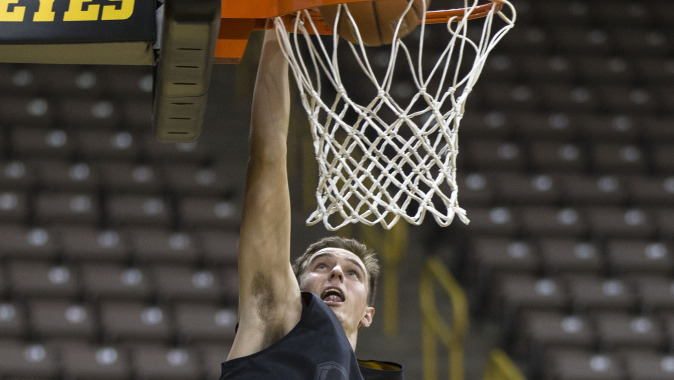 Sept. 16, 2014
Editor's Note: The following first appeared in the University of Iowa's Hawk Talk Daily, an e-newsletter that offers a daily look at the Iowa Hawkeyes, delivered free each morning to thousands of fans of the Hawkeyes worldwide. To receive daily news from the Iowa Hawkeyes, sign up HERE.
IOWA CITY, Iowa — Freshman Nicholas Baer grew up a Hawkeye basketball fan, so when University of Iowa head men's basketball coach Fran McCaffery offered Baer a spot on the roster as a walk-on, the decision was a no-brainer.
"I always wanted to come to Iowa, even if it was just for school without basketball," said Baer. "I was impressed when I came here on my visit. The coaches and facilities are great. I thought this was the best fit for me with the four options I had."
Baer had one scholarship offer from Division II Northwest Missouri State, and three of the four Division I universities in Iowa — Drake, Northern Iowa, and Iowa — offered a walk-on opportunity.
As a senior, the 6-foot-7 forward averaged 15.2 points, 9.1 rebounds, and 2.2 blocks helping lead Bettendorf High School to a conference championship and a third-place finish at the state tournament. He was named conference Player of the Year, team MVP, and earned all-state and all-conference honors.
"I had the chance to sit down with coach McCaffery for a couple hours on my visit after my senior year," Baer said. "We talked about how he envisioned me here and how I would be able to help the team. I appreciated that more than anything; he was genuine and that's what sold me. I came in with a list of questions and he answered every one. The coaching staff was one of main reasons why I came."
Growing up, Baer admired the play of former Hawkeye forward Greg Brunner.
"I remember watching him a lot," Baer said. "I always appreciated the way he played the game. He hustled and had great footwork."
Baer participated in Prime Time League over the summer and began team workouts in early-September. He says all of the returning players have been welcoming, and he is happy to be here.
"There isn't anybody who doesn't get along; there's great team chemistry with this group," said Baer. "They're all easy-going guys and fun to be around."
Baer said he has gravitated toward senior walk-on Okey Ukah for advice the first few weeks with the team.
"Okey's been extremely helpful teaching me what goes on around here," said Baer. "I've appreciated his guidance."
Individual workouts began three weeks ago and Baer said he knew coming in they were going to be demanding.
"I'm excited about the upcoming season and know I have a lot room for improvement," he said. "Being around this high-level talent, I know where I stand and where I need to get better."
Baer likes the basketball culture at Iowa and wants to match the passion his new teammates have for the game.
"You're expected to come in and get better every day and that's something I am enjoying so far," Baer said. "The players on this team are a bunch of gym rats. Every time I come in here someone is getting shots up.
"There are high expectations and that's where you thrive. Where there are higher expectations, there's higher success. The work ethic is indicative of the success here."