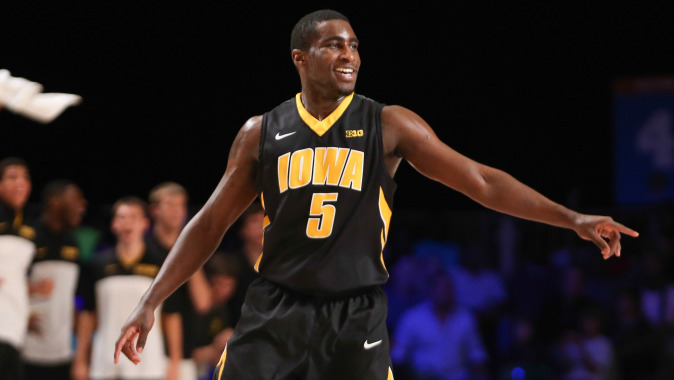 Sept. 18, 2014
IOWA CITY, Iowa — ESPN and the University of Iowa announced today its television plans for the 2014-15 men's basketball season. Thirteen Iowa games will appear on ESPN, ESPN2, ESPNU or ESPNews, while the Hawkeyes will also appear five times digitally on ESPN3.
The Hawkeyes' league opener at Ohio State on Dec. 30 is slated to tipoff at noon (CT) and be televised on ESPN2. Other Big Ten road games televised on an ESPN network include: Wisconsin (Jan. 20, 8 p.m.), Michigan (Feb. 5, 6 p.m.), Penn State (Feb. 28, 5 p.m.), and Indiana (March 3, 6 p.m.). Iowa's road game at Nebraska on Feb. 22 is a TV wildcard selection and will air on either CBS or BTN. The game time and television designation will be announced at a later date.
UI home contests against Michigan State (Jan. 8, 6 p.m.), Ohio State (Jan. 17, 1 p.m.), Wisconsin (Jan. 31, 11 a.m.), and Rutgers (Feb. 19, 7 p.m.) will also air on an ESPN Network.
Five nonconference games will be broadcast digitally on ESPN3: Hampton (Nov. 14, 8:30 p.m.), North Dakota State (Nov. 17, 7 p.m.), Pepperdine (Nov. 24, 7 p.m.), Northern Illinois (Nov. 26, 7:30 p.m.), and North Florida (Dec. 22, 7 p.m.). The Hawkeyes' opener against Hampton is part of a women's-men's basketball doubleheader. Lisa Bluder's Hawkeyes are scheduled to host USC Upstate at 6 p.m.
UI games against Texas (Nov. 20, 6 p.m., ESPN2), Syracuse/California (Nov. 21, TBD, ESPNU or ESPN2) and North Carolina (Dec. 3, 6:30 p.m., ESPN) were announced earlier this summer.
| | | | |
| --- | --- | --- | --- |
| Date | Opponent | Time (CT) | TV |
| Nov. 14 | Hampton | 8:30 p.m. | ESPN3 |
| Nov. 17 | North Dakota State | 7 p.m. | ESPN3 |
| Nov. 20 | vs. Texas | 6 p.m. | ESPN2 |
| Nov. 21 | vs. Syracuse/California | TBD | ESPNU or ESPN2 |
| Nov. 24 | Pepperdine | 7 p.m. | ESPN3 |
| Nov. 26 | Northern Illinois | 7:30 p.m. | ESPN3 |
| Dec. 3 | at North Carolina | 6:30 p.m. | ESPN |
| Dec. 9 | Alcorn State | 8 p.m. | ESPNews |
| Dec. 22 | North Florida | 7 p.m. | ESPN3 |
| Dec. 30 | at Ohio State | 12 p.m. | ESPN2 |
| Jan. 8 | Michigan State | 6 p.m. | ESPN or ESPN2 |
| Jan. 17 | Ohio State | 1 p.m. | ESPN |
| Jan. 20 | at Wisconsin | 8 p.m. | ESPN |
| Jan. 31 | Wisconsin | 11 a.m. | ESPN or ESPN2 |
| Feb. 5 | at Michigan | 6 p.m. | ESPN or ESPN2 |
| Feb. 19 | Rutgers | 7 p.m. | ESPNU |
| Feb. 22 | at Nebraska | TBD | CBS or BTN |
| Feb. 28 | at Penn State | 5 p.m. | ESPNU |
| March 3 | at Indiana | 6 p.m. | ESPN |