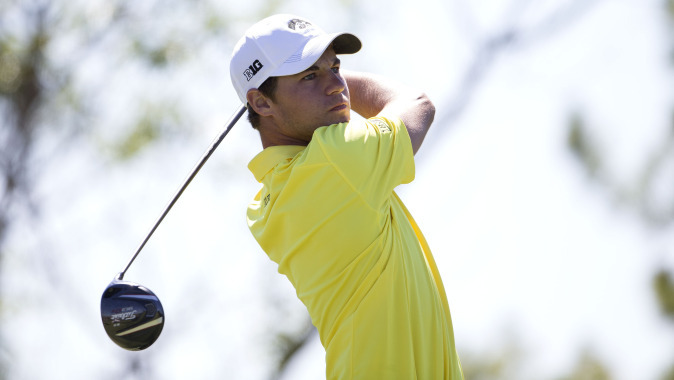 Sept. 18, 2014
Weekly Release

THIS WEEK
The University of Iowa men's golf team travels to Skokie, Illinois, this weekend to compete in the 18th annual Windon Memorial Classic held at Evanston Golf Club. The two-day tournament, hosted by Northwestern University, begins on Sunday, Sept. 21 at 7:30 a.m. (CT) with a round of 36 holes. The final round consists of 18 holes and will begin at 8 a.m. (CT) on Monday. Live stats will be available via Golfstat.com.
THE FIELD
Fifteen teams are set to compete at the Windon Memorial Classic. In addition to Iowa, six other Big Ten schools, including Northwestern, Ohio State, Minnesota, Michigan, Purdue, and Wisconsin, join Marquette, North Texas, Lamar, Tulsa, Notre Dame, St. Johns, Tennessee and California to make up the field.
THE LINEUP
Seniors Ian Vandersee and Brian Bullington, junior Nate Yankovich, and sophomores Raymond Knoll and Carson Schaake make up the lineup for Iowa this weekend.
THE COURSE
Located in Skokie, Ill., the Evanston Golf Club plays to a 6,793-yard, par-70 layout. Evanston Golf Club was designed in 1898, and is home to a variety of tournaments and outings every year. The club played host to two high profile championships in years past, the 1926 Chicago Open and the 1962 USGA Senior Amateur Championship.
TOURNAMENT HISTORY
This weekend marks only the second time the Hawkeyes have competed in the 18-year-old event, with their last appearance coming last season at The Knollwood Club in Lake Forest, Illinois. Iowa finished ninth in the team field with an overall score of 295 (+21).
LAST WEEK
The University of Iowa men's golf team finished third in the 12-team Golfweek Conference Challenge in Burlington, Iowa, on Sept. 16, with a 54-hole total of 874 (+10). Sophomore Carson Schaake and junior Nate Yankovich led the Hawkeyes throughout the three-day tournament. Schaake was consistent throughout, posting rounds of 71, 73, and 71. He finished with a total of 215 (-1) to finish tied for fifth, marking his second-best finish as a Hawkeye. Yankovich posted a career-best round during the opening 18 holes on Sunday (70), before finishing with a 79 and 71. He finished with a total of 220 (+4) to tie for 11th. Senior Brian Bullington and sophomore Raymond Knoll finished tied for 13th at five-over-par (221). Senior Ian Vandersee finished in a tie for 43rd at 229 (+13).
HAWKEYES IN THE RANKINGS
The University of Iowa men's golf team is ranked 36th in the Golf Coaches Association of America (GCAA) Poll. Iowa is the third-highest ranked Big Ten team in the poll. 6-STRAIGHT NCAA APPEARANCES Iowa has advanced to NCAA competition in each of the last six seasons, joining Illinois and Northwestern as the only Big Ten teams selected to NCAA Regional competition in each of the last six seasons. Iowa has advanced to the NCAA Championship finals three times in the last six years.
3 HAWKEYES ON B1G PLAYERS TO WATCH LIST
Seniors Brian Bullington and Ian Vandersee, and sophomore Raymond Knoll were selected to the 2014-15 Big Ten Men's Golfers to Watch List. Each member of the trio garnered PING All-Region honors last year.
NEW FACE AT THE HELM
Tyler Stith is in his first year as the head coach at the University of Iowa in 2014-15. Stith was named the UI head coach on Aug. 22, 2014. Stith, a former assistant coach and student-athlete at Iowa, served as assistant coach at Minnesota the last three years.
FOLLOW THE HAWKEYES
For an inside look at the men's golf program and to access exclusive coverage, "like" Hawkeye men's golf on Facebook (https://www.facebook.com/hawkeyemensgolf) and follow @IowaHawkeyeGolf on Twitter.
UP NEXT
The Hawkeyes return to action on Saturday, Oct. 11, when they head to Durham, North Carolina to compete in the Rod Myers Invitational hosted by Duke University.