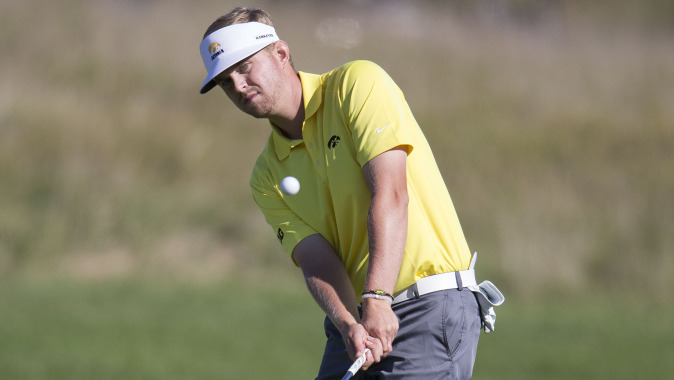 Sept. 21, 2014
Day 1 Results

SKOKIE, Ill. — Battling rain and winds of up to 20 miles per hour, the University of Iowa men's golf team finds itself in fourth place out of fifteen teams after day one of competition at the 18th annual Windon Memorial Classic, held at Evanston Golf Club.
"The guys were strong and committed, and we can be proud of the performance today," said UI head coach Tyler Stith.
The Hawkeyes posted a 36-hole team total of 568 (+8) and are currently four strokes behind leader California, who shot rounds of 285 (+5) and 279 (-1) for a total of 564 (+4) on Sunday. California was the only team to shoot under par in either of the two rounds today.
Junior Nate Yankovich and sophomore Carson Schaake led the way for the Hawkeyes through the first two rounds of competition, each posting scores of 141 (+1) to put them both in a tie for 11th place.
"Carson and Nate were solid today," said Stith. "They're playing with confidence and commitment."
Yankovich fired a career best two-under par 68 on the first 18 holes before notching a 73 (+3) on the second. After recording a 72 (+2) in the first round of 18, Schaake came back to shoot a career low 69 (-1) in the second round to move him up 14 spots on the individual leaderboard.
Sophomore Raymond Knoll followed closely behind, carding back-to-back rounds of 71 (+1) for a total of 142 (+2), putting him in an eight-way tie for 18th place.
Senior Ian Vandersee is tied for 39th with a 36-hole total of 146 (+6). Vandersee posted rounds of 72 (+2) and 74 (+4). Senior Brian Bullington owns a 147 (+7) after shooting rounds of 75 (+5) and 72 (+2), which ties for 48th place, respectively.
Play at the Windon Memorial Classic concludes on Monday with tee times beginning at 8 a.m. (CT). Live stats are available at golfstat.com.