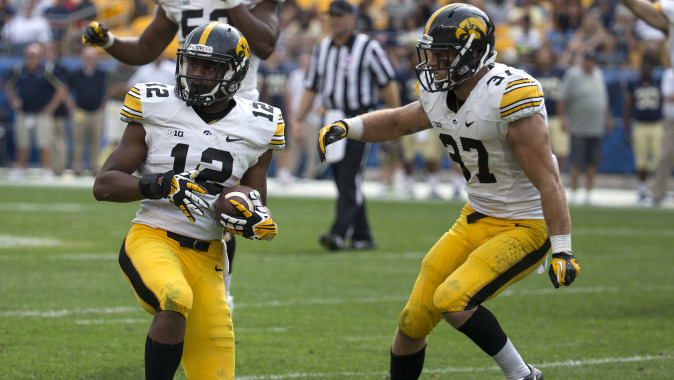 Sept. 22, 2014
Editor's Note: The following first appeared in the University of Iowa's Hawk Talk Daily, an e-newsletter that offers a daily look at the Iowa Hawkeyes, delivered free each morning to thousands of fans of the Hawkeyes worldwide. To receive daily news from the Iowa Hawkeyes, sign up HERE.
By DARREN MILLER
hawkeyesports.com
IOWA CITY, Iowa — University of Iowa senior strong safety Johnny Lowdermilk knew going into Saturday's game at the University of Pittsburgh that the Hawkeye secondary needed to play physical and tackle well.
After all, the undefeated Panthers averaged 445.7 yards a game, with 344.3 coming on the ground. Running back James Conner was second in the NCAA in rushing, quarterback Chad Voytik is Pitts most effective running quarterback in years, and four of Pitt receiver Tyler Boyd's 11 receptions had gone for touchdowns.
It was a given that Hawkeye defensive backs needed to play well; what wasn't certain was which Hawkeyes would be making those plays.
Junior free safety Jordan Lomax had to sit out the first half because of a targeting call the week before and sophomore cornerback Greg Mabin did not start because of a sore ankle. In their place were sophomores Anthony Gair (free safety) and Maurice Fleming (cornerback).
"Greg, Anthony, and Reese all came in and played well," Lowdermilk said. "Lomax came out ready to go in the second half and played a good game. Everybody prepared well this week and came out and played physical."
Lowdermilk recorded a career-high 11 tackles (seven solo) against Pitt; Mabin made five stops (four solo); sophomore cornerback Desmond King had four; Lomax and Gair made three tackles; Fleming and junior Sean Draper had two tackles apiece.
Iowa trailed 17-7 at halftime, then dominated the second half to win 24-20.
"In the first we half we came out kind of sluggish, not playing Iowa football," said Mabin, who had three pass breakups. "Coach (Phil Parker) got us together in the locker room and in the second half we were fired up. We came out and did it."
For Gair, he not only made his first career start, but he closed the game by intercepting a Voytik pass as the clock expired.
"This week I was more prepared," said Gair, who relieved Lomax during the game against Iowa State on Sept. 13. "We watched a ton of film, so we kind of knew what they were going to be doing. They were still tough to defend, but I was more prepared."
Lomax had a pass breakup and King made a tackle for a 2-yard loss.
"The secondary as a whole took a big jump," Mabin said. "Sean Draper had that big pass breakup, Reese was playing good, I had those pass breakups, Buddha (Desmond King) was playing good all game…Johnny, Jordan, everyone was clicking."
Lomax described a feeling of eagerness while waiting and watching as the first half game clock ticked down. During his time on the sidelines he observed more than the clock; he also noticed a few things about Pitt's offense.
"I had to make the best of the situation and I was able to catch on to some stuff their offense was doing," Lomax said. "When I got in the game (Pitt) was doing the same thing so, I already knew their game plan."
The next challenge for the Hawkeyes is another road test, this time at Purdue to open the Big Ten Conference slate. The Boilermakers (2-2) defeated Southern Illinois last week, 35-13.
"We're all friends and brothers back there," Lomax said. "Any time one of us goes in we're always cheering each other on. It's good to have depth back there; no matter who goes in the game they are going to perform at the same level if not better than the personnel that is in there."