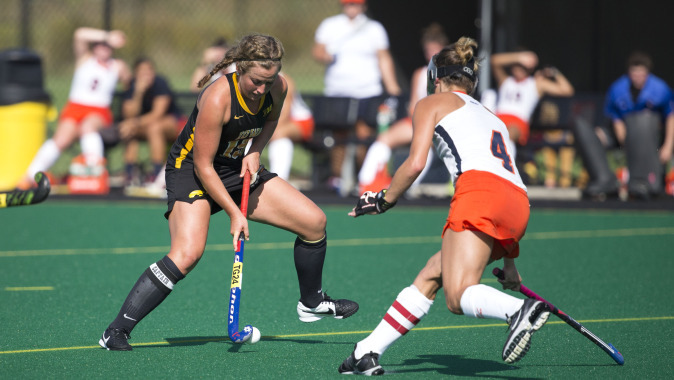 September 23, 2014
Editor's Note: The following first appeared in the University of Iowa's Hawk Talk Daily, an e-newsletter that offers a daily look at the Iowa Hawkeyes, delivered free each morning to thousands of fans of the Hawkeyes worldwide.
The ninth-ranked University of Iowa field hockey team opened Big Ten play Sept. 21, earning their first shutout of the season on the road against Rutgers. The 3-0 win marked the team's sixth road contest in seven games, but that time away from Grant Field hasn't decelerated the team's success.
Iowa (5-2 overall, 1-0 Big Ten) has faced four ranked teams in a seven-game span. The Hawkeyes' only two losses came on the road against No. 2 North Carolina and No. 8 Stanford. UI head coach Lisa Cellucci is aware of the success that comes from playing against the top teams in the country day-in and day-out.
"We prefer a tough schedule," said Cellucci. "We always schedule like this, that way you don't have to "get up" for a quality opponent. We always have a target on our backs, so we love playing teams who have targets on theirs as well.
"It's great motivation for the team and builds confidence in our young players. We're not going to shy away from anything. We're going to be prepared, and we believe playing against the best teams in the country prepares us for the postseason when we face those top teams."
Junior Natalie Cafone — the 2013 NCAA statistical champion for points per game — enjoys having the toughest nonconference schedule in the Big Ten.
"It shows us just how good we can be when we play as a team and it builds the confidence we have," said Cafone -who leads the Big Ten with 11 goals and has 33 in her last 28 games. "We try to bring that energy into every matchup. With the experience we gain from a tough schedule, it's good to have going into the Big Ten knowing how difficult the conference is."
The Hawkeyes enter a six-game home stretch on Grant Field beginning Sept. 26 against Indiana. Iowa will face three Big Ten opponents — Indiana, Northwestern, and Michigan — as well as three nonconference foes — Missouri State, Ball State, and Miami (Ohio). Sophomore goalkeeper Alex Pecora understands how important the homestretch can be.
"The home-stretch will be good for us getting back into our routines in Iowa City these next few weeks," said Pecora. "We talk a lot about being able to protect Grant Field; it adds that much more to our wanting to win at home."
Pecora (5-2) has played every minute this season pacing the Hawkeye defense. The Marlton, New Jersey, native has tallied 32 saves on the year (4.57 per game) holding a .727 save percentage.
Following the six-game homestand, Iowa hits the road for a pair of games at Michigan State and Ohio State. The Hawkeyes return to Grant Field to close out the home-slate against Penn State, and will wrap up the regular season on the road at Maryland in College Park, Maryland.