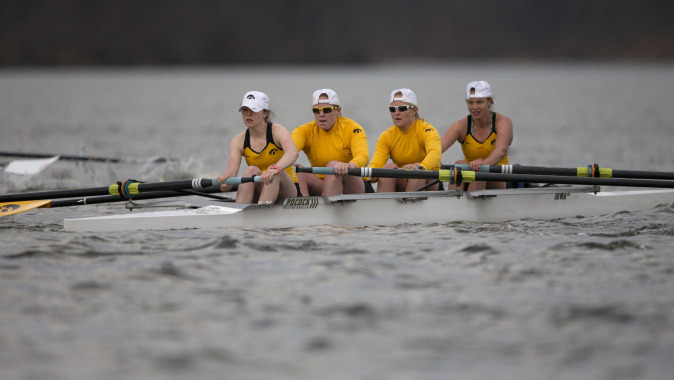 Sept. 27, 2014
Download your Hawk Talk Monthly android app

DES MOINES, Iowa — The University of Iowa rowing team began its fall season at the 2014 Head of the Des Moines Regatta on Saturday, Sept. 27 at Prospect Park.

"The final results were good today, with our crews nailing down the top several spots in each of our events. There were lots of bright spots today, including a near dead heat between two of our 8+'s, so I think we can move forward with enthusiasm about what lies ahead," said head coach Andrew Carter.

The Hawkeyes dominated the women's collegiate 8+ event earning the top three positions. UI's winning boat clocked a time of 17:58.436, while the runner-up posted a time of 17:58.744 and the third place boat finished with a time of 18:29.176.

Coming in fourth place, a little over two minutes behind Iowa's third boat, was Drake University Crew with a time of 20:26.459.

In the women's collegiate 4+ event, Iowa dominated taking first, second, third and fourth in the event. The first place boat earned a time of 20:12.399 and the runner-up boat posted a time of 20:31.337.

Once again, Drake University Crew trailed the Hawkeyes taking fifth with a time of 22:14.219.

Iowa also participated in the women's collegiate novice 8+. The boat kept their winning streak going by finishing first with a time of 21:26.479.

"The racing was helpful to us all as we evaluate where we are and where we need to go next," said Carter.

The Hawkeyes are back in action against Big Ten Conference foe Indiana on Oct. 4 in Bloomington, Ind.

Lineups (crews listed in order of finish):
Collegiate Women 8+
1V8+: Alyssa Armstrong, Kat Tillman, Kaelynn Heiberg, Victoria Bricker, Nina Hendriks, Zoe Ribar, Brianna Achs, Maddie Anglin, Destinee Gwee (coxswain)
2V8+: Gabby Watson, Nicole Mitchell, Morgan Grastorf, Lauren Subler, Jessica Streur, Cristy Hartman, Claire Benschoter, Beth Baustian, Katie Brown (coxswain)
3V8+: Erin Czupil, Rebecca Thompson, Sarah Powell, Gemma Kerr, Allison Hanson, Skylar McSorely, Rebecca Clayton, Mackenzie Norton, Alyse Higgins (coxswain)
Collegiate Women's 4+
1V4+: Erin Czupil, Rebecca Thompson, Nina Hendriks, Zoe Ribar, Ellen Cranberg (coxswain)
1V4+: Jessica Streur, Lauren Subler, Claire Benschoter, Maddie Anglin, Rachel Chambers (coxswain)
2V4+: Gabby Watson, Cristy Hartman, Morgan Grastorf, Beth Baustian, Katie Brown (coxswain)
3V4+: Kat Tillman, Kaelynn Heiberg, Lauren VanderWall, Skylar McSorley, McKinzie Cowley (coxswain)
Collegiate Novice Women 8+
1V8+: Amy Schembari, Ashlynn Bauer, Izabella Dolba, Elizabeth Zoz, Baillie McCunn, Alyssa Wagenknecht, Ashley Duda, Kelsey Cousins, Emma Hindes (coxswain)