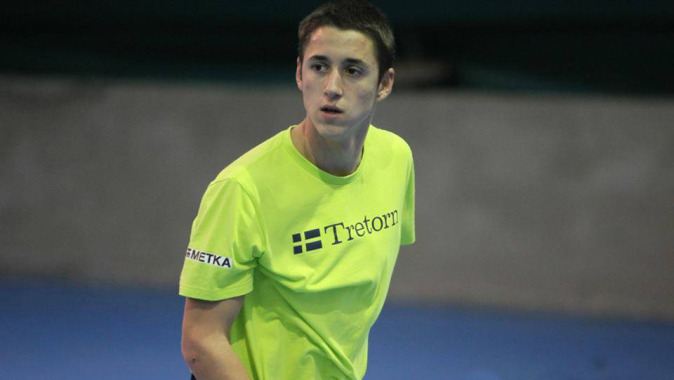 Sept. 30, 2014
Editor's Note: The following first appeared in the University of Iowa's Hawk Talk Daily, an e-newsletter that offers a daily look at the Iowa Hawkeyes, delivered free each morning to thousands of fans of the Hawkeyes worldwide.
By JACK ROSSI
hawkeyesports.com
IOWA CITY, Iowa — University of Iowa freshman Lefteris Theodorou wasn't worried about his transition to collegiate tennis, but he was anxious for his first practice with the Hawkeyes.
Theodorou joined the UI men's tennis program out of Greece with a strong resume. He was ranked as the No. 1 player in the U14, U16, and U18 divisions, while also being tabbed as the No. 31 ranked player in Europe.
"I was more nervous to practice (than compete) because in Greece there aren't that many good coaches and players that I could train with," he said. "I was more anxious for the practices because I have been playing matches all my life."
Theodorou says there is an adjustment to competing in tennis in the United States. He's making the move to a team-oriented game with the Hawkeyes from a focus that was solely individual as a junior player.
"It's like a different sport," he said. "The scoring is different, and it seems more independent in Europe than it does here. We are a team here, but it feels good to be on a team and support each other."
Theodorou has posted a 2-2 record in his first two competitions, going 2-1 at the Princeton Farnsworth Invitational before losing his only match at the ITA All-American Championship last weekend.
UI interim head coach Ross Wilson likes what he has seen from Theodorou considering he missed the first three weeks of practice due to illness.
"He had a tough start the first couple weeks," said Wilson. "His level of play was high and his conditioning was low, which was expected when you miss three weeks. He showed glimpses of the player he can be, which I believe he can be one of the top players in college tennis."
During the first weekend in New Jersey, Wilson paired Theodorou with senior Matt Hagan in doubles because he felt the pair could balance each other on the court.
"My assistant Ty Schaub and I thought they would be a good team," Wilson said. "Matt is a big guy with a big serve and is a senior, so he has a lot of experience in the top spot, and Lefteris is athletic and serves well. He is a good compliment to Matt because he is also very high energy."
Through the early portion of his Hawkeye career, Wilson sees Theodorou has a player with an enormous amount of potential, but Wilson says the key will be how the freshman adapts and grows.
"He has an opportunity to be a very special piece of the program," Wilson said. "He has a lot of energy, is an entertaining guy, and has a ton of talent. It's going to depend on how fast he matures as a player and a person here at Iowa."
The Hawkeyes will return to action Oct. 9-13 at the ITA Central Regionals, which will be held in Norman, Oklahoma. The Big Ten Singles and Doubles Championships will take place Oct. 31-Nov. 3 in Minneapolis.