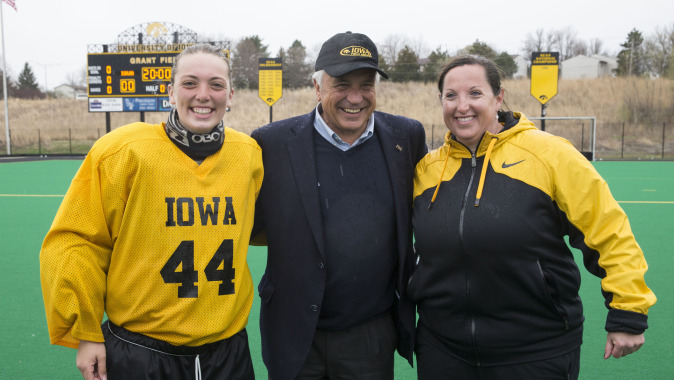 Oct. 1, 2014
Editor's Note: The following first appeared in the University of Iowa's October edition of Hawk Talk Monthly, the UI athletics department's online publication.
IOWA CITY, Iowa — University of Iowa sophomore goalkeeper Alexandra Pecora is still mastering her craft as she begins her first year as starter for the Hawkeyes, but there is no one better to learn from than her head coach Lisa Cellucci, the all-time saves leader at Iowa.
"Coach Cellucci is one of the best goalkeeping coaches in the country and I feel privileged to learn under her," said Pecora. "I feel grateful for her to be my mentor and to be coached by her; it's one of the reasons I decided to come here.
"It's pretty special what she did here as a student-athlete and what she's accomplished coaching here as well."
Cellucci, in her first season as head coach and her 15th on the UI staff, has helped turned Iowa into `Goalkeeper U', both as a student-athlete and as a coach.
"The tradition of goalkeepers at Iowa is special, it means a lot to me, especially since I was a goalkeeper here at Iowa," said Cellucci. "We've had phenomenal goalkeepers come through this program. It's one of the reasons I was attracted to coming here as a student-athlete and it means a lot that we continue to turn that tradition into great players graduating consistently year after year."
As a student-athlete, Cellucci was one of the greatest goalkeepers ever to don the black and gold. During her four years with Iowa, the Broomall, Pennsylvania, native was a three-time All-American, four-time All-Big Ten selection and four-time regional All-American.
"Goalkeeping is one of my passions and one of the reasons I've been here so long at Iowa," said Cellucci. "It is a huge part of a team's success. The all-time saves leader is something that I'm proud of but I've played on some great teams."
Cellucci has coached standouts Barb Weinberg, Lissa Munley and Kathleen McGraw, among others that have helped enhance the UI tradition. The Hawkeyes have made 22 NCAA Tournament appearances, the most of any team as a member of the Big Ten.
Now, the reigns have been turned over to Pecora.
"I have really big shoes to fill," said Pecora. "There have been a lot of great goalkeepers to come through here, and I am proud to wear Iowa on my Jersey.
"That's a lot of pressure, but I thrive under pressure. That's what our position is — performing under pressure. I love being here and I love playing at this University where it truly is `Goalkeeper U.'"
Pecora, Cellucci and the seventh-ranked Hawkeyes (7-2, 2-0) host Ball State on Friday under the lights at 7 p.m. (CT), and No. 11 Northwestern on Sunday at noon.