Oct. 4, 2014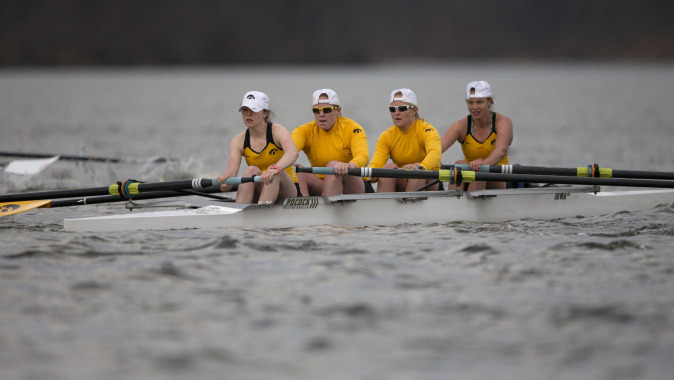 BLOOMINGTON, Ind. — The University of Iowa rowing team competed against Big Ten foe Indiana in a very windy scrimmage on Saturday, Oct. 4 in Bloomington, Ind.
The Hawkeyes and Hoosiers squared off in two sessions on Lake Lemon beginning at 10am.
"The sessions went well today. Indiana is a very strong program and we had some tough pieces against them. We were able to get the better of them on many of the distances and that's really encouraging for us as a program," said head coach Andrew Carter. "When you can be in there with a Big Ten rival, and one of Indiana's standing, you know you have a few things going well.
The two sessions were planned by head coach Carter and Indiana's head coach Steve Peterson.
"The first encompassed two pieces over 4000m and they were run in time-trial format (i.e. single file against the clock) with stroke rate caps," explained Carter.
Iowa put out three crews and Indiana fielded two for the first session. On the first flight, the Hawkeyes finished first, second and fifth while the second flight finished first, third, and fifth. The second session was run as three-minute timed pieces with stroke rate caps.
"Due to some illnesses and injuries, we only sent out one crew that was comprised of rowers from our pervious three," said Carter.
The margins were very close with Iowa finishing ahead of the two Indiana crews on three of the four intervals contested. The fourth interval, Iowa finished between the two Hoosier boats.
"I'm quite pleased with the finishes and with the competitive spirit our crews showed. Scrimmages like this are a great opportunity to get in close to the crews while they're in competitive mode and I was able to identify several areas where we can improve," said Carter. "Again, though, I was really pleased with the spirit I saw out there. That's always a great foundation on which to build.
Next up for the Hawkeyes is their third and final event of the fall season. The squad will travel to Lawrence, Kansas, on Oct. 18 for the Jayhawk Jamboree.
Line Ups:
First Session
Alyssa Armstrong, Kat Tillman, Kaelynn Heiberg, Victoria Bricker, Nina Hendriks, Zoe Ribar, Brianna Achs, Maddie Anglin, Rachel Chambers (coxswain)
Gabby Watson, Nicole Mitchell, Morgan Grastorf, Lauren Subler, Jessica Streur, Cristy Hartman, Claire Benschoter, Beth Baustian, Katie Brown (coxswain)
Skylar McSorely, Rebecca Thompson, Gemma Kerr, Bianca DiBellonia, Allison Hanson, Kasia Gniatzcyk, Rebecca Clayton, Erin Czupil, Alyse Higgins (coxswain)
Second Session