Box Score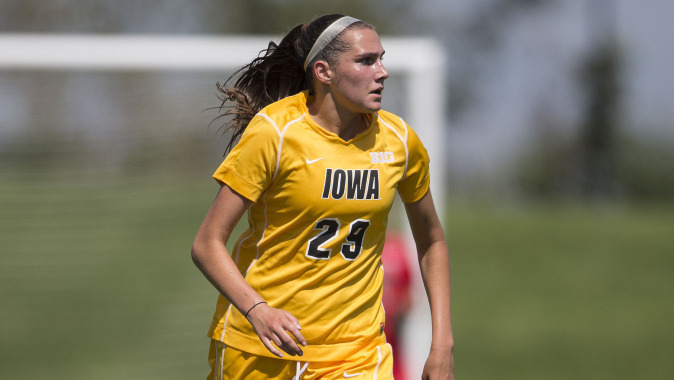 Oct. 5, 2014
ANN ARBOR, Mich. — A second half surge from Michigan was too much to handle for the University of Iowa women's soccer team as the Hawkeyes fell, 4-2, to the Wolverines on Sunday afternoon at the UM Soccer Stadium.
The Hawkeyes got on the board first when senior Melanie Pickert gathered a loose ball at the top of the box where she punched it into the upper left corner of the net to give Iowa the early 1-0 lead. Pickert has scored in back-to-back contests, pushing her season total to six.
Michigan came roaring back to take a 2-1 lead after a pair of goals from Corinne Harris and Nicky Waldeck. Harris' goal came in the 38th minute after the Hawkeyes failed to clear a Wolverine corner kick. Waldeck headed in a crossing corner kick from teammate Lulu Haidar in the 41st minute.
With time winding down in the opening half, sophomore Natalie Krygier fired a shot past Michigan goalkeeper, Megan Hinz, to tie things up, 2-2. The goal was the first of Krygier's career. Sophomore's Tory Harman and Amanda Lulek were credited with the assist on the play.
However, the second half was a different story as it was all Wolverines. After both squads fired off nine shots apiece in the opening half, Michigan outshot Iowa, 13-3, in the second, netting two goals in the process.
The Wolverines were back on top, 3-2, just 56 seconds into the second half when Michigan's Taylor Timko booted the ball over the head of UI junior goalkeeper Hannah Clark from 20-yards out.
They never looked back. Michigan extended its lead to 4-2 after Clark mishandled a corner kick allowing for the Wolverines' Christina Ordonez to tap in the loose ball.
The Hawkeyes (9-4-0, 4-3-0) are back in action on Wednesday, Oct. 8, when they travel to Wisconsin to take on the 13th-ranked Badgers (11-2-0, 5-2-0) at 7 p.m. (CT).