Oct. 7, 2014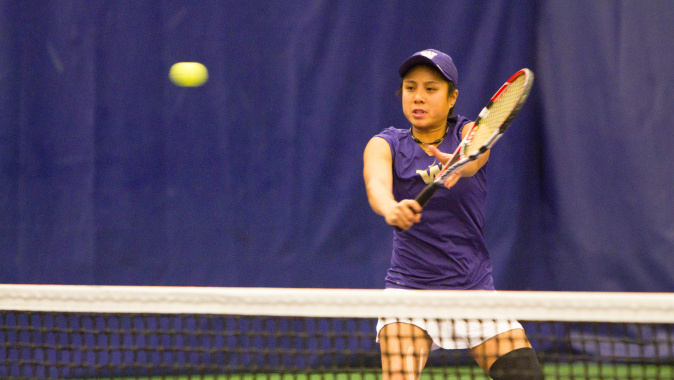 May 28, 2014
IOWA CITY, Iowa — Former NCAA All-American Denise Dy has been named University of Iowa women's tennis assistant coach. The announcement came today from UI head coach Katie Dougherty.
"I'm thrilled to have Denise on board," said Dougherty. "She is a great young coach that had an outstanding career at Washington and knows what it takes to be a successful student-athlete. Her past experience translates well into her coaching career. She should make a make a positive impact in all aspects of our program."
Dy was a three-time All-American at the University of Washington from 2008-12, and reached as high as No. 3 in the ITA singles rankings and No. 6 in the ITA doubles rankings.
During her time as a Husky, she received the 2011 National USTA/ITA Sportsmanship Award and the ITA Arthur Ashe Jr. Award for the Northwest Region. She was named first team Pac-10 in 2011, second team Pac-10 in 2010, and academic All-Pac-10 in 2009.
Since graduating in 2012, Dy has worked at a variety of high performance tennis clubs and continued her playing career as a member of the Philippine National Team. She won a mixed doubles gold medal at the Southeast Asian Games in 2011, and a pair of medals at the 2009 Southeast Asian Games – a silver medal in doubles and a bronze medal in singles.
"I would like to thank head coach Katie Dougherty for giving me the opportunity to be a part of the women's tennis program at the University of Iowa," said Dy. "Katie has established a great tradition of academic excellence and competitive success in a very challenging conference and I'm eager to start."
Dy is affiliated with the Professional Tennis Registry and has earned her Professional Level 1 Certification.
She graduated from the University of Washington in 2012, earning a Bachelor of Arts degree in Psychology with a minor in Military Science. ?