Iowa Women's Tennis Match Day
Home Schedule 
2023-24 schedule coming in the next few months…
*Admission free for all ages*
---
Spectator Parking HTRC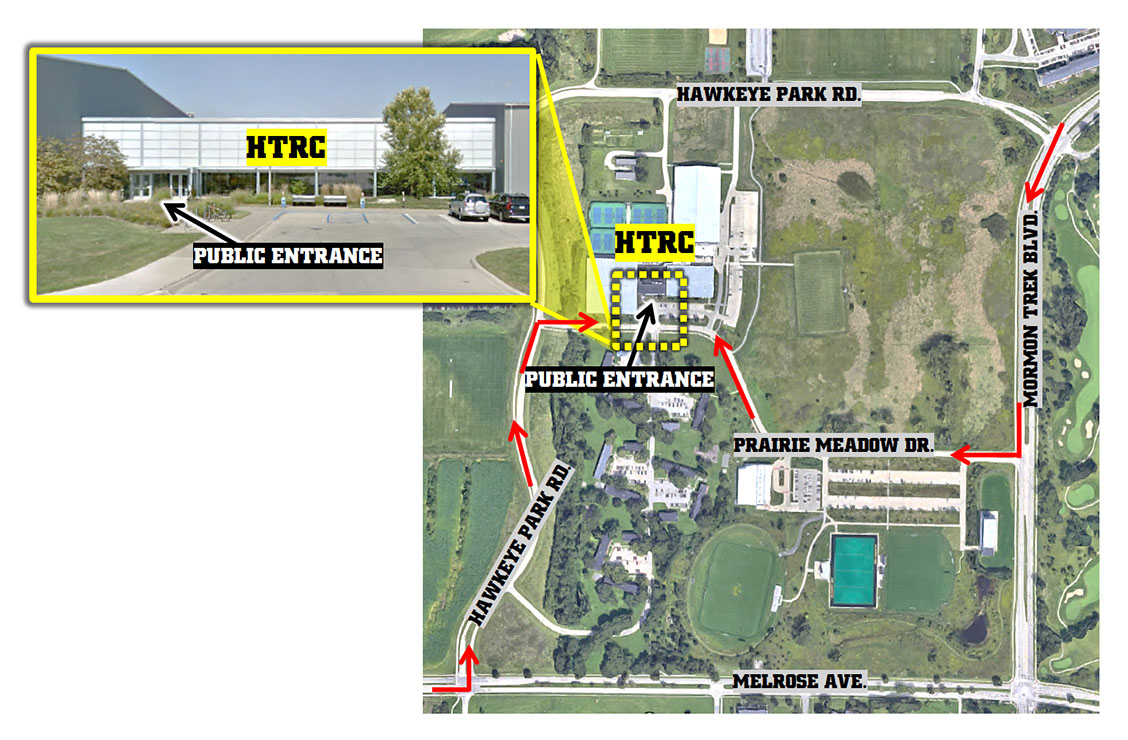 WEEKDAY PARKING (before 4:30pm): Public parking is available at the prevailing rate in the metered spaces around the HTRC.
WEEKEND & WEEKDAY PARKING (after 4:30pm): Public parking will be available free of charge in all lots surrounding the HTRC.
FOLLOW IOWA WOMEN'S TENNIS
Code of Conduct
To ensure that all patrons have a pleasant game day experience, each patron should act responsibly and be considerate of others. Attendees should also be sensitive to the behavior of their guests. The following acts or types of behavior by any arena visitor, employee or other patron will not be tolerated:
Behavior that is unruly, disruptive, or illegal in nature.

Possessing and/or concealing a firearm, explosives or other weapons (weapons carried with permits are also prohibited).

Possessing or using illegal drugs.

Unreasonably obstructing the view of other patrons.

Fighting, taunting, or any action that may harm or endanger others.

Harassing or threatening other patrons, arena staff, players or game officials.

Projecting images onto players, coaches, officials, broadcast or network employees or other sideline personnel by aiming a laser pointer, spotlight or other such device at them.

Intoxication or other signs of alcohol and drug impairment that result in irresponsible behavior (intoxicated patrons will not be admitted to the complex).

Offensive language or obscene gestures, to include the use of such language or gestures concerning a person's race, ethnicity, color, gender, religion, creed, disability, age, sexual orientation, gender identity/expression or national origin; or to instigate, incite or encourage a confrontation or physical assault.

Nudity; to include the removal of shirts and other items of apparel that may offend others.

Committing sexual acts or exhibiting lewd behavior.

Smoking or use of any kind of tobacco.

Liquor violations.

Underage consumption of alcohol.

Throwing objects.

Entering the playing court (trespassing).

Failing to follow the instructions of Hawkeye Tennis & Recreation Center personnel.

Any other acts or behavior that, in the judgement of Athletics Event Management, poses a threat to other patrons or diminishes their enjoyment of the game.
Whether or not certain types of behavior and/or acts are inappropriate or offensive to others may depend on one's perspective and values. Athletics Event Management reserves the right to deem an act or exhibited behavior to be inappropriate and to act accordingly. Fans who fail to comply with arena policies are subject to a warning, ejection or arrest. Acts such as fighting, being abusive to others, being intoxicated, throwing objects or committing other acts that may injure other patrons or disrupt the progress of the game may result in ejection and/or arrest without prior warning. Violations by ticket holders may result in the revocation of ticket privileges.