Oct. 9, 2014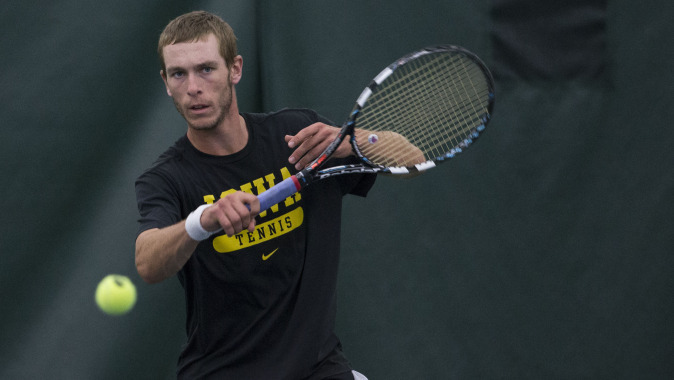 Thursday Results

NORMAN, Okla. — The University of Iowa men's tennis team kicked off competition on Thursday at the ITA Regional Tournament. Freshman Jake Jacoby, sophomore Nils Hallestrand and senior Andres Estenssoro were among the three Hawkeyes to see action on the courts in the pre-qualifying singles bracket.
Jacoby started Thursday as the fifth overall seed in the pre-qualifying singles bracket. The native of Little Rock, Arkansas, received a first-round bye setting him up with a match against Miguel Flores of St. Louis University in the second round, where he coasted to victory in straight sets (6-2, 6-2). With the win, he advances to the third round.
"I am very pleased with the way Jake came out and took care of business, it was the best match he has played as a Hawkeye," said interim head coach Ross Wilson. "He has a tough match tomorrow morning. I hope he will be able to produce the same level as he did today," added Wilson.
Elsewhere, Estenssoro took on Gary Notkin of South Dakota State in a first round pre-qualifying matchup. Notkin notched the victory over the Hawkeye senior (6-4, 6-2).
Hallestrand saw action against Tristan Houle of Southern Illinois (Edwardsville) in another first round pre-qualifying match. Hallestrand pushed Houle to three sets, but fell (4-6, 6-2, 6-3).
Competition resumes on Friday with singles and doubles matches throughout the day at the Headington Family Tennis Center.
ITA REGIONAL TOURNAMENT
Thursday's results
Pre-qualifying first round singles
Jake Jacoby (UI) received bye
Gary Notkin (SDSU) def. Andres Estenssoro (UI): 6-4, 6-2
Tristan Houle (SIUE) def. Nils Hallestrand (UI): 4-6, 6-2, 6-3
Pre-qualifying second round singles
Jake Jacoby (UI) def. Miguel Flores (STL): 6-2, 6-2