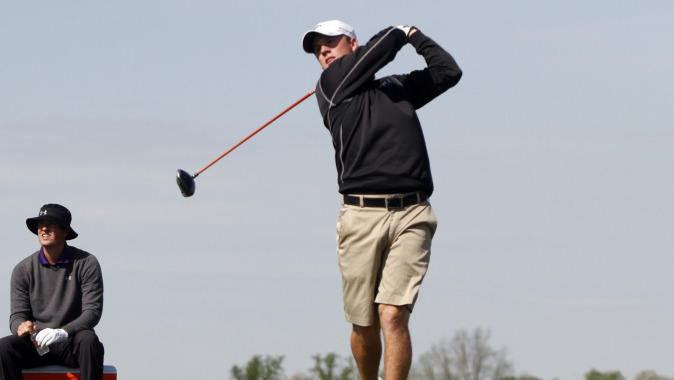 Oct. 15, 2014
Weekly Release

THIS WEEK
The University of Iowa men's golf team travels to Atlanta, Georgia, to compete in the ninth annual U.S. Collegiate Championship, hosted by Georgia Tech, this weekend. The three-day tournament will be held at The Lakeside Course at the Golf Club of Georgia. Live stats will be available via golfstat.com. Round one begins Friday with tee times starting at 8 a.m. (CT), while round two begins Saturday with tee times beginning at 8 a.m. Sunday's final round begins with tee times at 7:30 a.m. Iowa will play with Wake Forest and East Tennessee State on Friday in round one (8:30-9:10 a.m.).
THE FIELD
In addition to Iowa, Auburn, Clemson, East Tennessee State, Georgia Tech, Kent State, LSU, Oklahoma State, Stanford, Texas, Texas A&M, UCLA, Virginia, Wake Forest, and Washington are set to compete in Atlanta this weekend. The 15-team field features 10 teams ranked in the most recent GCAA top 25.
THE LINEUP
Seniors Brian Bullington and Ian Vandersee, junior Nate Yankovich, and sophomores Raymond Knoll and Carson Schaake, make up the lineup for Iowa this weekend.
THE COURSE
A par 72, the Lakeside Course at the Golf Club of Georgia was awarded "Best New Private Course in America" in 1991 by the industry's premier publication, Golf Digest. It is a traditional, modern layout with demanding, firm and fast greens. With a back nine playing around scenic Lake Windward, the Lakeside Course challenges the senses and the short game. In 1999, Golf Digest honored Lakeside's par-5, 607-yard 11th hole as one of "America's Best 99 Golf Holes."
TOURNAMENT HISTORY
Iowa finished the 2013 U.S. Collegiate Championship in a tie for seventh place, propelled by Ian Vandersee's three-round score of 212 (-4). Vandersee finished in a tie for 20th.
LAST TIME OUT
After posting a team total of 297 (+9) on the final day of action at the fifth annual Rod Myers Invitational held at the Duke University Golf Club, the University of Iowa men's golf team jumped two spots to finish in a tie for seventh place with Michigan State in the 12-team field. The Hawkeyes recorded a 36-hole team total of 592 (+16) in the weather-shortened event.
HAWKEYES IN THE RANKINGS
The University of Iowa men's golf team is ranked 38th in the most recent Golf Coaches Association of America (GCAA) Poll released on Oct. 3. Iowa is the third-highest ranked Big Ten team in the poll. Iowa is also ranked 50th out of 262 teams in the Golfweek/Sagarin Rankings.
6-STRAIGHT NCAA APPEARANCES
Iowa has advanced to NCAA competition in each of the last six seasons, joining Illinois and Northwestern as the only Big Ten teams selected to NCAA Regional competition in each of the last six seasons. Iowa has advanced to the NCAA Championship finals three times in the last six years.
3 HAWKEYES ON B1G PLAYERS TO WATCH LIST
Seniors Brian Bullington and Ian Vandersee, and sophomore Raymond Knoll were selected to the 2014-15 Big Ten Men's Golfers to Watch List. Each member of the trio garnered PING All-Region honors last year.
NEW FACE AT THE HELM
Tyler Stith is in his first year as the head coach at the University of Iowa in 2014-15. Stith was named the UI head coach on Aug. 22, 2014. Stith, a former assistant coach and student-athlete at Iowa, served as assistant coach at Minnesota the last three years.
FOLLOW THE HAWKEYES
For an inside look at the men's golf program and to access exclusive coverage, "like" Hawkeye men's golf on Facebook (/hawkeyemensgolf) and follow @IowaHawkeyeGolf on Twitter.