Oct. 17, 2014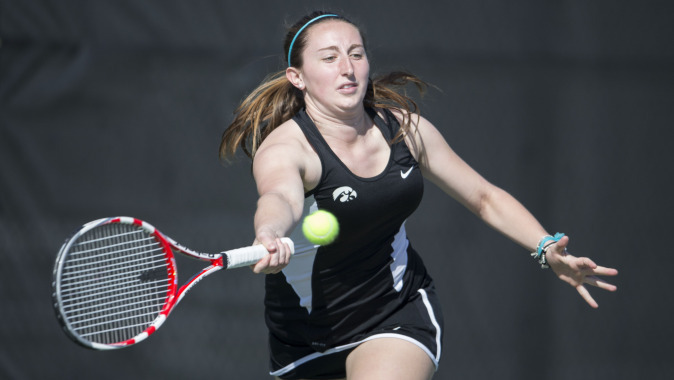 Singles Results

Doubles Results

Stillwater, Okla. — The University of Iowa women's tennis team continued action at the ITA Regional Tournament Friday with doubles and singles action. Three Hawkeye seniors participated including Morven McCulloch, Shelby Talcott and Ellen Silver.
McCulloch and Silver teamed up to defeat Nebraska's Lehmicke/Shivalingaiha, 8-2,in the doubles main draw first round. The win earns them a match up with Chrysanthou/Cichone of Southern Illinois (Carbondale) in the second round of the doubles main draw.
"We are off to a great start in doubles competition and able to beat a good Nebraska team in the process," said UI head coach Katie Dougherty.
McCulloch looked to translate her success on the doubles court into singles. The senior's main draw first round match was against Palma Juhasz of Kansas State. McCulloch was able to take the first set before dropping the final two, (1-6, 6-4, 6-4). She will return to action in singles qualifying on Saturday.
Elsewhere in singles action, Talcott faced Arkansas's Makenzie Craft in the first round of the singles main draw. Talcott was able to take the first set in the match but was unable to keep her momentum going dropping the following two sets, falling (4-6, 6-1, 7-5).
"Morven and Shelby played close matches against quality opponents. It is disappointing that we lost two first round singles matches. However, this experience gave them a lot to take into the spring," added Dougherty.
Competition resumes on Saturday with singles and doubles matches throughout the day at the Greenwood Tennis Center.
ITA REGIONAL TOURNAMENT
Friday's results
Singles main draw first round
Palma Juhasz (KSU) def. Morven McCulloch (UI): 1-6, 6-4, 6-4
Makenzie Craft (Ark) def. Shelby Talcott (UI): 4-6, 6-1, 7-5
Doubles main draw first round
McCulloch/Silver (UI) def. Lehmicke/Shivalingaiha (Neb): 8-2