Box Score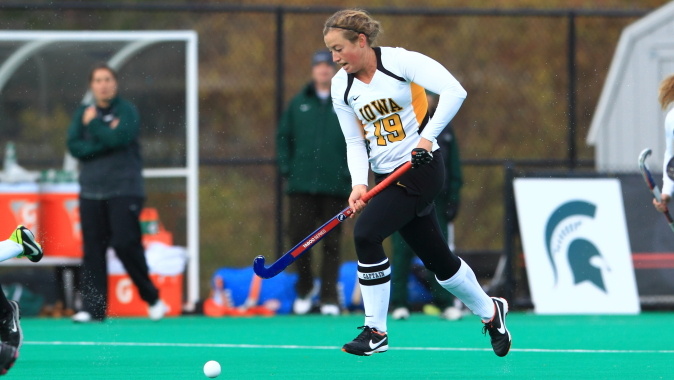 October 17, 2014
IOWA CITY, Iowa — The 12th-ranked University of Iowa field hockey team came up short in a 2-0 loss to Michigan State (8-6, 2-4 Big Ten) on Friday in East Lansing, Michigan. An aggressive attack by the Hawkeye offense was highlighted by 16 second-half shots against the Spartans.
A back-and-fourth defensive effort kept both sides scoreless with a combined two shots in the opening 12 minutes before the Spartans took possession of a 1-0 lead scoring off a corner at the 12:58 mark.
Struggling to get the offense going, the Hawkeyes were held to a pair of corners and two shots in the opening period. The Black and Gold trailed 1-0 going into halftime.
Although scoreless, Iowa's offense picked up in the second half drawing seven corner opportunities and attacking with 16 shots.
The Spartan offense was limited to three shots in the second half but extended their lead to 2-0 with a goal in the 60th minute.
Alex Pecora (8-5) played all 70 minutes collecting three saves while surrendering a pair of goals.
The Hawkeyes (9-5, 2-3) return to action Sunday at 11 a.m. (CT) squaring off with Ohio State in Columbus, Ohio.
GAME SUMMARY
#12 Iowa (9-5, 2-3)
0
0
0
Michigan State(8-6, 3-3)
1
1
2
SCORING
Michigan State
Kristin Matula
(Michelle Graham) 12:58/1st

Michigan State
Alli Helwig 60:52/2nd
STATS
Shots
Iowa 18, Michigan State 9
Penalty Corners
Iowa 9, Michigan State 3
Saves
Alexandra Pecora (8-5) (Iowa), 3