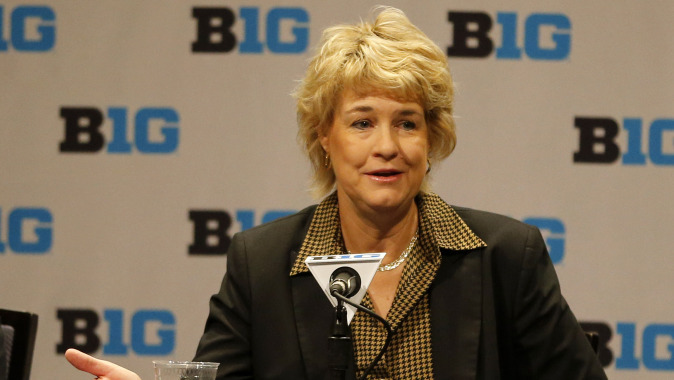 Oct. 17, 2014
Hawkeyesports.com recently sat down with head women's basketball coach Lisa Bluder to get her thoughts on what should be an exciting 2014-15 season. The Hawkeyes — 1-of-14 teams nationally and the only Big Ten team to play in the last seven NCAA Tournaments — return four starters from last year's team that won 27 games and ranked No. 19 in the country.
Iowa was ranked preseason No. 12 in the spring. How do the preseason expectations impact this team?
Someone asked me the other day if I was afraid of expectations and I said, `Are you kidding? This is what you work for. This is what you try to accomplish and try to get the recognition for your program and we're celebrating it.' At the same time, let's go to work to live up to those expectations. That's our attitude here. We want to embrace that.
Does this team have the same grit and mindset as it did last year?
When you talk about grit, you talk about our floor general, Samantha Logic, and she epitomizes grit. She is so strong, focused, and competitive, and that rubs off on a lot of people. That is a great example for our freshmen to have a senior that leads in that manner. Our team has been gritty and will be gritty, and with Sam as our leader, we will always be that way.
Last year, the team had a high-flying attack, leading the league in assists and scoring. Can we expect to see that style again this year?
That is us, that is what we want to do, and that is what Iowa women's basketball is supposed to look like. Last year, we put the pieces together to make that happen. Our team bought into that and it's really easy to sell it this year to our team because they know the success and they enjoy playing it. We have recruited players that fit well with that system.
Theairra Taylor was here for five years, and graduated in the spring. Who will step up into that leadership role?
We have three captains this year, Sam (Logic), Melissa (Dixon), and Kathryn (Reynolds). By virtue of Bethany (Doolittle) being a senior, she is going to have expectations for her as well. She had a great year last year, she is a senior, and she has come such a long way in her four years here. Sam, in my mind, is our ultimate leader because she is the point guard; she's the most recognized player on our team and she is the one who will hold the entire ship together.
Have you ever had a more solid returning core than this group?
This is one of our most solid returning groups we have ever had. Anytime you return four starters, along with the quality of these women and how well we have done the last several years, compounds that. Everybody's expectations should be high for our basketball team, and I certainly want our players to have those same types of expectations.
Ally Disterhoft was a presence all of last year as a freshman. How does she top that first season?
It is hard to top that freshman season, but she is not done and she knows that. She knows that she can get better. We're continuing to make her stronger; she's a good rebounder and can be a better rebounder for us. As she plays the game and gets smarter, she improves her basketball I.Q. and that all starts with repetitions on the floor and having that confidence. Ally has always been a competitor since she has been here, and that will enable her to keep getting better each and every year.
How do you see the back court playing out?
That's the beauty of our offense; we run a continuity offense, and we don't need to have the best number one, two, or three out there. In numbers, we have the five best basketball players on the court. That's what I love about our system. We can have three point guards, or we can have three power forwards, and it doesn't matter. It lets players go out there and really contribute and not be pigeon-holed to a specific number.
Although Whitney (Jennings) played point guard all through high school, and she's certainly going to back up Sam in that point guard position this year, there is no reason she cannot come in and play some alongside Sam. There is no reason why Christina Buttenham and Alexa Kastanek cannot be in that mix. Ally can play the three or the four, and then Kali (Peschel) can come in. Claire (Till) played well for us inside at the end of the year and we'll have her facing the basket this year. There are some other possibilities that can happen in that vacated spot.
The junior class took a step last year; can they take another one this year?
I do not think we've seen what they're able to accomplish yet. They have more to give to our program and they've realized that hour glass has now flipped over and now they're starting to wind down to the other side of it. That sense of urgency can really push you into gear a little bit. Claire (Till) has been hampered with some knee pain in the preseason, and I'm hoping that we can get that taken care of. Nicole (Smith) is playing pain free. Kalie Peschel is somebody that I believe we have not even come close to seeing how good of a player she really is. We see it in practice and need to get that transferred into game action and have her show what she's capable of doing. We know that she can do it, we see it in practice.
How do you see this group of freshmen contributing this season?
All four of them have the potential to contribute right off the bat. Whitney (Jennings) for sure; she is going to be backing up our point guard, there's no doubt about that. There is no reason why she cannot be part of that starting five. Christina (Buttenham) will be battling to win that wing position. Chase (Coley) will definitely be a part of the action because we have to prepare her for next year when she will be in that starting position at the five for us. We have to prepare her by getting her reps and game experience. Carly (Mohns) provides something for us that was a weakness last year, and that's rebounding. She's an unbelievable rebounder.
The coaching staff seems to fit and mesh so well…
We are really like family and that's a great example to our team and how to treat each other and how much more enjoyable it is when everyone gets along. That is kind of a trademark of our team, our chemistry, and how we play. There's not any jealousy or nit-picking about our team, and that's what makes it fun. Our staff lives that and that's a great example for our team.
How do we prepare for this schedule?
It's a crazy schedule. Of all years, this is the best time for it to happen. We've challenged ourselves with tough road games, home games, different conferences, and different styles of play. You just hope that, as a coach, you're going to be able to rise to the occasion and be able to handle all of those games, but it is brutal when you look at it. I've always been able to look at it one step at a time and one game at a time and not look down the road because sometimes when you look down the road, it can be overwhelming and intimidating. When you look at the next game and next week and break it down into little chunks, that's how you need to prepare your team for every game and that's what we have to do as a staff.
It's been a great run… seven-straight NCAA tournaments. How does this team make that eight?
Like every year, we need to stay healthy because that's something that's out of your control, but is something that has so much impact on your team. We need to stick to our identity and what we do. Understanding that teamwork, running the ball, shooting threes, and having that floor balance is great for us, and not getting ourselves overwhelmed with what lies ahead of us. If we take care of business with our home games, and if we do as well as we think we can do in the Big Ten, even though there are tough teams, I do see an eighth-straight NCAA appearance for us.