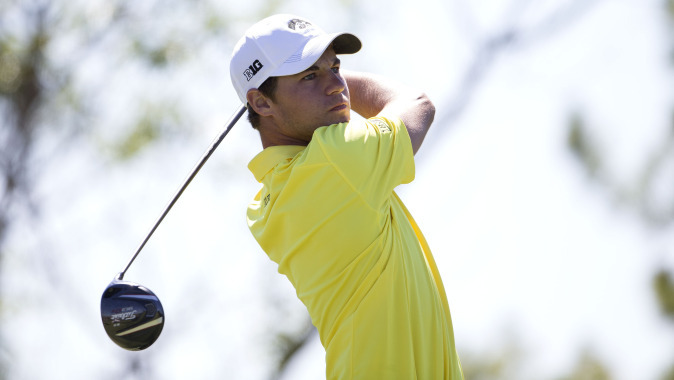 Oct. 17, 2014
Round 1 Results

| Round 2 Tee Times

ALPHARETTA, Ga. — Sophomore Carson Schaake paced the University of Iowa men's golf team on the opening day of the ninth annual U.S. Collegiate Championship on Friday, firing a 69 (-3) to tie for 10th after 18 holes at The Golf Club of Georgia. The Hawkeyes are 11th in the 15-team field that features 10 top-25 teams.
"I thought we managed ourselves well today," said UI head coach Tyler Stith. "The guys know they can compete in any field."
Iowa is the only Big Ten team competing in the field that includes No. 3 Stanford, No. 5 LSU, No. 9 UCLA, No. 13 Virginia, No. 15 Georgia Tech (host), No. 16 Texas, No. 19 Auburn, No. 22 Oklahoma State and Washington (tied), No. 23 Wake Forest, Clemson, East Tennessee State, Kent State and Texas A&M. Virginia leads the tournament (272).
Schaake, off to another strong start, has led Iowa in all three events so far this season. The Omaha, Nebraska, native finished tied for fifth at the Golfweek Conference Challenge (Sept. 14-16), tied for fourth at the Windon Memorial (Sept. 21-22), and tied for 13th at the Rod Myers Invitational (Oct. 11-12). Schaake has posted seven rounds (out-of-nine rounds) this fall at-or-below par, including five under par.
"Carson played solid throughout the day and gave himself a lot of opportunities," said Stith. "He is playing and thinking well out there."
Sophomore Raymond Knoll and senior Brian Bullington both fired a 73 (+1) and are tied for 31st. Senior Ian Vandersee is tied for 58th (76) and junior Nate Yankovich is tied for 67th (77).
Play continues in the 54-hole event with round two Saturday morning (8 a.m. CT) and concludes with the final round Sunday (7:30 a.m.). Live scoring is available at golfstat.com.