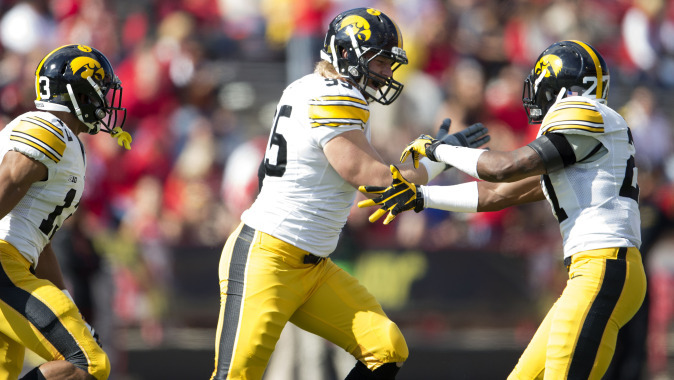 Oct. 18, 2014
Iowa at Maryland Photo Gallery

By DARREN MILLER
hawkeyesports.com
COLLEGE PARK, Md. — First play from scrimmage, first collegiate interception for University of Iowa junior defensive end Drew Ott.
You can't be much quicker to the highlight reel than Ott was Saturday against Maryland at Capital One Field at Byrd Stadium. On the first offensive play for the Terrapins, quarterback C.J. Brown dropped back, and so did Ott, into coverage. Ott intercepted the pass at Maryland's 32-yard line and it set up the first Hawkeye touchdown of the day, a 4-yard run by senior running back Mark Weisman.
"It was a good feeling and it brought a lot of excitement to the team and created some energy, so that was good," Ott said.
Ott and Sean Draper had interceptions Saturday, giving the Hawkeyes seven in three Big Ten Conference games. They have at least one interception in their last four outings.
Iowa scored again on its second possession to take a 14-0 lead, but Maryland rallied in the second quarter to grab its first lead and held on for a 38-31 win. It was the first meeting between the teams.
"We were playing hard in that first quarter and maybe we let our guard down a little and it turned out to bite us," Ott said.
Eight different Iowa players have 10 interceptions this season. While it was his first interception as a Hawkeye, Ott had a handful of picks when he played middle linebacker at Trumbull, Nebraska.
Ott had three tackles on the day with 2 ½ sacks and two tackles for loss. He leads the team with 9 ½ tackles for loss and seven sacks. Toss in six quarterback hurries and a forced fumble and it is shaping up to be an impression year for Ott.
While Ott was making things difficult on Maryland's offense, Weisman was doing the same to the defense. He carried the ball 10 times for 78 yards and two touchdowns, marking the fourth consecutive game he has rushed for two touchdowns.
"It means the offensive line, tight ends, and fullbacks are blocking well and making it easy for me and all the running backs out there," Weisman said.
Weisman's 38-yard run in the third quarter was a season long and moved him into 10th among Iowa's all-time rushing leaders (499 carries, 2,217 yards).
"Right now I don't care about that," Weisman said. "All I care about is getting wins and the offensive line, tight ends, fullbacks, and receivers are doing the dirty work; give them all the credit."
Weisman rushed 10 times for 78 yards against the Terrapins, with touchdown runs of 4 and 2 yards. He now has 26 career rushing touchdowns, passing Ladell Betts for third in program history. His 10 rushing touchdowns this season are a personal single-season high.
Iowa (5-2 overall, 2-1 Big Ten) and its next opponent, Northwestern (3-4, 2-2), both have byes Oct. 25. The Big Ten West Division rivals meet Nov. 1 in Kinnick Stadium.