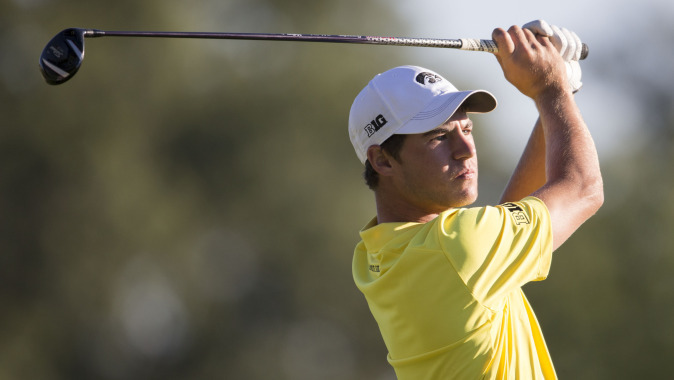 Oct. 19, 2014
USCC Final Results

ALPHARETTA, Ga. — Sophomore Carson Schaake paced the University of Iowa men's golf team at the ninth annual U.S. Collegiate Championship, finishing tied for 11th after 54 holes at The Golf Club of Georgia. The Hawkeyes finished 11th in the 15-team field that featured 10 top-25 teams, compiling a three-round score of 869 (+5; 291, 289, 289).
"Carson did not have his best ball striking week by his standards," said UI head coach Tyler Stith after Sunday's final round. "The best players find a way to get it done, and he continues to improve each tournament."
Schaake posted rounds of 69, 71, and 72 for a three-round total of 212 (-4). He has led Iowa in all four events so far this season. The Omaha, Nebraska, native finished tied for fifth at the Golfweek Conference Challenge (Sept. 14-16), tied for fourth at the Windon Memorial (Sept. 21-22), and tied for 13th at the Rod Myers Invitational (Oct. 11-12). Schaake has posted nine rounds (out-of-11 rounds) this fall at-or-below par, including six under par.
Brian Bullington led Iowa during Sunday's final round, posting a two-under-par 70. The senior carded rounds of 73, 77, and 70 to post a 220 and tie for 46th.
"Brian played great and was in control," said Stith. "I am proud of him for bouncing back with a good number."
Raymond Knoll registered a top-20 finish (T-19th), posting a 73, 71, and 71. The sophomore notched a three-round total of 215 (-1).
Senior Ian Vandersee tied for 57th (76, 71, 76 = 223), and junior Nate Yankovich tied for 74th (77, 76, 80 = 233).
Iowa was the only Big Ten team competing in the field that included No. 3 Stanford, No. 5 LSU, No. 9 UCLA, No. 13 Virginia, No. 15 Georgia Tech (host), No. 16 Texas, No. 19 Auburn, No. 22 Oklahoma State and Washington (tied), No. 23 Wake Forest, Clemson, East Tennessee State, Kent State and Texas A&M. Texas won the tournament (843).
"At times this week we played our best golf of the season," said Stith. "We learned we can compete with anyone in the country. We just need to trust and believe in ourselves."
Iowa concludes its fall season Oct. 27-28 at the Royal Oaks Intercollegiate, hosted by Baylor.