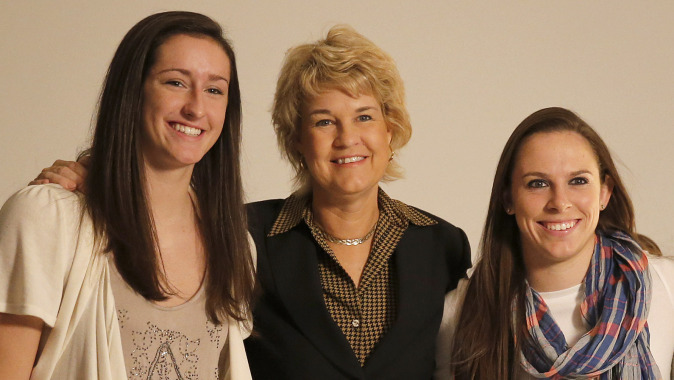 Oct. 20, 2014
IOWA CITY, Iowa — University of Iowa head women's basketball coach Lisa Bluder and seniors Bethany Doolittle and Samantha Logic have been honored by College Sports Madness. College Sports Madness has tabbed Bluder as its Preseason Big Ten Coach of the Year, and named Logic (first team) and Doolittle (fourth team) to its preseason All-Big Ten team. Logic has also been named to the College Sports Madness Preseason All-America third team.
Bluder, the all-time winningest coach in program history, is in her 15th year as head coach at Iowa and her 31st year overall. Under her direction, the Hawkeyes have advanced to 13 postseason appearances (11 NCAA and two WNIT) in 14 seasons, including NCAA Tournament berths in each of the last seven seasons. Iowa is the only team in the Big Ten, and one of 14 in NCAA Division I women's basketball, to qualify for the NCAA Tournament in each of the last seven years. There are 343 Division I teams.
Bluder has posted a 278-166 (.626) record at Iowa and her 30-year record stands at 634-308 (.673). Bluder surpassed Hall of Famer C. Vivian Stringer (269 wins) as the all-time winningest coach in program history on Feb. 10, 2014, as the Hawkeyes defeated Northwestern, 90-84.
Bluder, one-of-nine active major college coaches with 600 or more wins, is a three-time Big Ten Coach of the Year (2001, 2008 and 2010) and two-time WBCA Regional Coach of the Year (2001 and 2008). She has guided Iowa to a winning record in 13 of her 14 years at Iowa, including 10 upper-division finishes in the challenging Big Ten Conference. Bluder, who ranks fourth among Big Ten coaches all-time in league victories (138), has led Iowa to eight 20-win seasons in her 14 years, including six of the last seven years.
Logic earned honorable mention All-America honors from the Associated Press and the WBCA as a junior last year. The Racine, Wisconsin, native was a unanimous first-team All-Big Ten selection by the coaches, and a first team selection by the media, becoming the 18th Iowa player to garner first-team All-Big Ten honors, marking the most of any Big Ten program.
Logic (5-foot-9) — the 2014 Big Ten leader in assists — was the only player in the nation to average 13 or more points (13.3), six or more rebounds (6.6), and seven or more assists (7.5). She led the Big Ten in league play in assists (8.0) and steals (3.0). Logic was named Big Ten Player of the Week three times, while also being named to the Big Ten Player of the Week Honor Roll four additional times. She was named 1-of-22 watch list finalists for the 2014 Nancy Lieberman Award (nation's top point guard).
Logic, who ranked third nationally in assists last season, notched three triple-doubles, becoming the first Big Ten player to record three triple-doubles in a single season. Logic ranked second nationally in triple-doubles; Alyssa Thomas of Maryland had four. Entering the 2013-14 campaign, there had only been 11 seasons in NCAA history in which a player registered three or more triple-doubles. Logic has four career triple-doubles, the second most in Big Ten history, and the most while competing in the Big Ten (Suzie McConnell of Penn State registered seven from 1985-88).
The two-time Academic All-Big Ten honoree tallied a program-record 269 assists last season, marking the fourth-best single-season total in Big Ten history. She has a school-record 622 career assists, which ranks ninth in league history. Logic will enter her senior season as the NCAA's active career assists leader.
Doolittle, a native of Oakdale, Minnesota, is third all-time in program history with 184 career blocks. A two-time Academic All-Big Ten honoree, she was named second-team All-Big Ten in 2014, in addition to the Big Ten All-Defensive Team (1-of-5 named) and Big Ten All-Tournament Team. She tallied 106 blocks a year ago, the most in a single season in program history (previous record: Morgan Johnson – 79, 2009-10), and the eighth-highest single-season total in Big Ten history. Doolittle tallied three or more blocks in 19 games, and tallied at least one block in every game but two. She was Iowa's leading scorer (14.2 points/game).
Iowa returns 10 letterwinners from a team that went 27-9 in 2014 and made its Big Ten-best seventh-consecutive NCAA Tournament appearance. The Hawkeyes open the regular season Nov. 14, hosting USC Upstate (6 p.m. CT) at Carver-Hawkeye Arena.
Tickets are available by visiting the ticket office at Carver-Hawkeye Arena, calling 1-800-IA-HAWKS, or online at hawkeyesports.com.