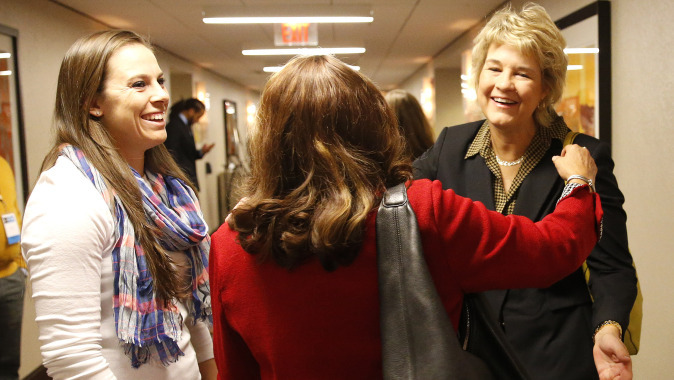 Oct. 20, 2014
Editor's Note: The following first appeared in the University of Iowa's Hawk Talk Daily, an e-newsletter that offers a daily look at the Iowa Hawkeyes, delivered free each morning to thousands of fans of the Hawkeyes worldwide. To receive daily news from the Iowa Hawkeyes, sign up HERE.
By DARREN MILLER
hawkeyesports.com
CHICAGO — C. Vivian Stringer, owner of 929 career victories, is a Hall of Fame women's basketball coach at Rutgers University. Lisa Bluder, head coach at the University of Iowa, has 634 wins at three institutions and appears destined to follow Stringer into whatever halls of honor eventually come calling.
The coaching paths of Stringer and Bluder have crossed on the basketball court; their paths crossed again Thursday at Big Ten Basketball Media Day in Chicago. Stringer exited a room after recording a public service message for the Big Ten Conference. She saw Bluder standing outside with Hawkeye players Bethany Doolittle and Samantha Logic.
Without hesitation, Stinger embraced Bluder. Then Logic. Then Doolittle.
"I'm so proud of the way you played in the postseason," Stringer told the Hawkeyes.
The conversation continued. It was genuine. Stringer wanted the Hawkeyes to come early or spend a day after their scheduled game this season so she could give them a tour of New York City.
"Remember the statement, `Once a Hawkeye, Always a Hawkeye,'" Stringer said. "That is the way that goes. I have stated that a thousand times; my team knows that."
Stringer took over an Iowa program in 1983 that was coming off three losing seasons. By the time she left in 1995, the Hawkeyes had won 269 times with nine trips to the NCAA Tournament, six Big Ten championships, and one Final Four appearance.
Logic was flabbergasted by her brush with Stringer. The year Logic was born, Stringer led the Hawkeyes to a record of 27-4 and to the NCAA Final Four in Atlanta.
"You can tell she was a Hawk and she loves the Hawks still," Logic said. "She hugged us the first time and I had never met her before. This is Vivian Stringer and she is talking to me right now. We joke that we will never wash these clothes again."
Six seasons after Stringer left Iowa, Bluder inherited the program that was coming off two consecutive losing seasons. From 2000-2014, the Hawkeyes have won 278 times with 11 NCAA tournament appearances, a Big Ten Tournament title, and a Big Ten regular season title.
"Remember the statement, `Once a Hawkeye, Always a Hawkeye. That is the way that goes. I have stated that a thousand times; my team knows that."

C. Vivian Stringer
Rutgers basketball coach
"Lisa is a great Iowan and Iowa is fortunate to have her; she is the right person," Stringer said. "She isn't somebody riding in on her high horse, she understands at a very fundamental level. I was fortunate to experience the fans and administrators there, and Iowa is fortunate to have Lisa."
Stringer was professor and coach at Cheyney University in Pennsylvania when UI women's athletic director Christine Grant called with a potential job opportunity. It was a difficult decision for Stringer, but she believed what Grant was selling.
"We made a decision to leave because of our trust in Dr. Grant as a person," Stringer said. "You don't uproot everything and go to an area of the country I didn't even know existed. I was like Iowa, Idaho, Ohio, where is this? You don't do that unless you trust the people that represented the university."
Vivian and her husband William had three children while living in Iowa City. Their daughter Nina has special needs and was cared for at the Center for Disabilities and Development within the University of Iowa Children's Hospital.
On Thanksgiving Day 1993, William died of a heart attack.
"I only left Iowa because my husband died there and it's as simple as that," Stringer said. "I think of that all of the time: What would have happened had he not had a heart attack?"
Two of Stringer's sisters still live in Iowa City. Her brother has a business there. While Stringer was doing interviews at the Hyatt Regency O'Hare, her mother was taking a vacation from her home in Atlanta to Iowa City. Vivian visits Iowa several times a year.
Stringer loves returning to Iowa, but not so much as a visiting head coach. On Dec. 4, 2005, Rutgers entered Carver-Hawkeye Arena and defeated the Hawkeyes, 57-51. It was one of the most difficult experiences of Stringer's career.
"I was so nervous," Stringer said. "I didn't like that I was sitting on the visitor's bench; that seemed strange. Then I remembered where my family used to sit and it brought back so many memories. I'm glad now that we did play (in 2005) because coming back to Iowa is not going to be as stressful as it was the first time."
The teams have met twice since. Rutgers won 70-53 on Dec. 16, 2006, in Piscataway, New Jersey; Iowa won 70-63 on March 20, 2010, in the NCAA Tournament in Stanford, California.
Rutgers and Maryland are Big Ten Conference newcomers, but neither come to Iowa City this season. Iowa plays at Rutgers on Jan. 4 and at Maryland on Feb. 1.
When the time comes in 2015-16, Stringer should expect another warm reception when the Scarlet Knights play in the Hawkeye State.
"I gave my soul to Iowa and I know the fans reciprocated," Stringer said.