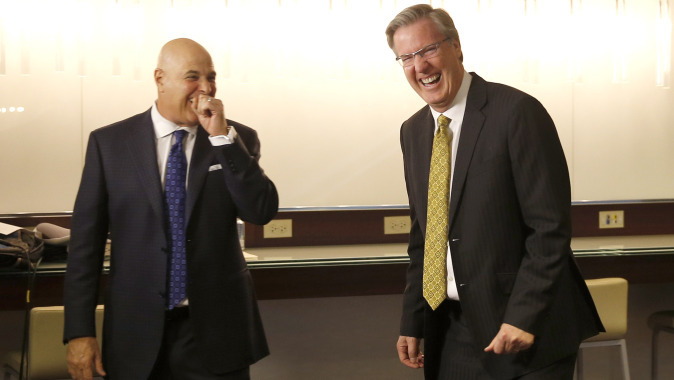 Oct. 21, 2014
Editor's Note: The following first appeared in the University of Iowa's Hawk Talk Daily, an e-newsletter that offers a daily look at the Iowa Hawkeyes, delivered free each morning to thousands of fans of the Hawkeyes worldwide. To receive daily news from the Iowa Hawkeyes, sign up HERE.
By JAMES ALLAN
hawkeyesports.com
IOWA CITY, Iowa — Three college basketball analysts — ESPN's Seth Greenberg and BTN's Jim Jackson and Jess Settles — believe the University of Iowa men's basketball team will make its second-straight NCAA Tournament appearance in 2015.
"Iowa is good enough to win the Big Ten, but they have to get good, solid point guard play," said Greenberg on Oct. 16 at Big Ten Media Day in Chicago. "They also have to find a way to replace (Roy Devyn) Marble because he was a guy they could play through at the end of games to go and get his shot."
Marble, a first-team All-Big Ten and NABC all-district selection as a senior, led Iowa in scoring, averaging 17-points last season. He was drafted in the second round of the 2014 NBA Draft by the Orlando Magic.
Settles believes in junior point guard Mike Gesell. Gesell started all 33 games as a sophomore, ranking first on the team in assists (128), second in steals (43), and third in scoring (7.8 points per game). He reached double figures 14 times, including seven times in the last 11 games.
"I know Mike struggled down the stretch, but he had some wonderful games last year," said Settles, who played at Iowa from 1993-99. "I thought he out-played DeAndre Kane in the Iowa State game, but he wasn't able to finish with the free throws. He's a player that can have some 20-point nights this year, it's just a confidence thing."
"They run the court and can score, and there aren't a lot of teams that score it as easily as they do. They also rebound the ball and have enough pieces where they can wear people down."

ESPN analyst Seth Greenberg on the Hawkeyes
Greenberg says the Hawkeyes' pace and scoring ability make them difficult to defend. Iowa averaged 81.5 points in 2014-15 and finished with 90 or more points six times. The team returns three of its top four and eight of its top 11 scorers from last season.
"They run the court and can score, and there aren't a lot of teams that score it as easily as they do," said Greenberg. "They also rebound the ball and have enough pieces where they can wear people down."
From a leadership standpoint, the 2014-15 Hawkeyes are senior Aaron White's team. Greenberg wants to see the forward become Iowa's go-to player on the court.
"White has to be that guy now," said Greenberg. "He has to be that guy for 40 minutes, and he can't take plays off."
White averaged 12.8 points and 6.7 rebounds in 2013-14 en route to third-team All-Big Ten honors. He is the first-ever Hawkeye to register 1,300-plus points, 650-plus rebounds, 100-plus steals, and 100-plus assists by his junior season.
Settles is eager to see how Iowa handles its nonconference schedule where it faces No. 10 Texas and No. 24 Syracuse or California at the 2K Classic in New York City, and the likes of No. 6 North Carolina, No. 14 Iowa State, and Northern Iowa.
"This is as important first couple of months of the season since coach (Fran) McCaffery has been there," said Settles. "They have to get through that stretch healthy, but they'll know exactly what they have (heading into Big Ten play).
"The guys are going to be tested mentally and physically on the road, and then they'll come into the Big Ten season and they'll be ready."
After making its third-consecutive postseason appearance in 2013-14, Jackson says Iowa must play up to its potential and handle expectations. The Hawkeyes were picked to finish seventh in two Big Ten preseason media polls, and are ranked 25th in the initial USA Today Coaches' Poll.
"Last year there were a lot of games they should have won," he said. "They have to figure out how to win those games at home. If they defend their home court and steal some games on the road, they'll be back in the NCAA Tournament."
The Hawkeyes host Northwood (Florida) in an exhibition contest Nov. 2 on Mediacom Court inside Carver-Hawkeye Arena beginning at 2 p.m. (CT). Iowa opens the regular season against Hampton on Nov. 14 at 8:30 p.m.